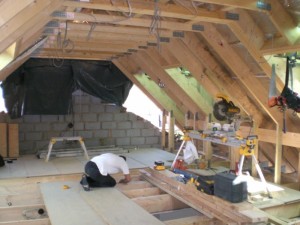 Professional loft conversion services in Shepherd's Bush, W12 provided by HomeMates. Increase the living area of your house with our loft conversion service. Call now!
Loft conversion is the best way to add more space without doing major construction work. Our company is an expert in loft conversion and we urge you to take a close look at our service.
We are based in Shepherd's Bush, W12, London and have a significant experience in the building industry.
Contact HomeMates at 020 3745 4377 or at info@homemates.co.uk.
Building Services Prices
The prices can vary greatly depending on the size of the property and materials used. We strongly recommend to fill in the form or call us for a free quote.
Loft Conversion in Shepherd's Bush from HomeMates
Reliable loft conversions
A variety of options
Flexible working schedule
Experienced professional builders
Here is a list of all the services we provide in Shepherd's Bush
We provide homeowners with a couple of loft conversion options. Furthermore, we are available day-to-day, including at weekends, which will help you organise your schedule much more easily. We also have a 24/7-operating call centre. If there is anything you need to know, feel free to contact us anytime, any day. We'll be happy to help.
Loft Conversion Services in Shepherd's Bush, W12
There is a lot of experience in our team and we know our service has been useful for hundreds of people so far. Every team member is a professional in this field and has relevant skills and knowledge. We also use professional equipment. That's a key to our company and also a key to a successful job.
Speak to one of our operatives and arrange a consultation. We'll discuss all the options you have. We need to carry out architectural plans, for which reason we'll have to take a close look at your property in Shepherd's Bush, W12. Before any construction work could be done, however, we need approval by local authority. Once we get this done, we'll discuss costs and other issues. We'll agree a work timetable. All the work will be done in time.
You can find HomeMates also in Bayswater, Gunnersbury and the rest of the London as well.
If you don't want to extend your roof and all you really need is to make changes from within your loft, use our velux conversion. We won't make any changes in the shape of your house's roof.
If, on the other hand, you want to extend your roof, use our dormer conversion. It's purpose is to open up the room by providing more space. There are a variety of dormers designs to choose from.
We work within Shepherd's Bush, London. Check out our conversion projects and decide for yourself whether you want to use our services. We'll be happy to help you convert your attic into a useful room. Get in touch with us.