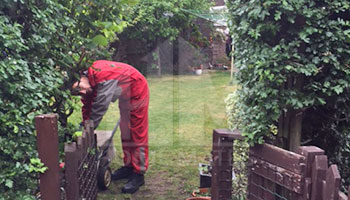 HomeMates provides various gardening services in Shepherd's Bush, W12. Our gardeners can offer you lawn mowing, hedge trimming, tree pruning and other gardening services.
Taking proper care of your outdoor space is essential if you want to have a well maintained garden. Our professional company offers top quality gardening services in Shepherd's Bush, W12. We keep our standards high, and our prices – low.
Nick
has been working for our company for 3 years as a Professional Gardener. With 10 years experience in the field he managed to cover more than 3500 addresses.
Vesko
works for our company for 1 year already. As he is specialised in shaping the bushes, lawn mowing and grass cutting, he helps to numerous Customers to maintain their gardens on daily bases.
Gardening Services Shepherd's Bush from HomeMates
Professional Lawn Mowing
Garden Edging
Seed Planting
Garden Clean Up
Fertilising
Available in all London areas, our gardening experts work seven days a week. They use the best products, equipment and gardening techniques to guarantee excellent results.
If you have any enquiry or if you would like to get a quote, just give us a call on 020 3745 4377 or send us e-mail on info@homemates.co.uk!
Gardening Services Prices
Here is a list of all the services we provide in Shepherd's Bush
Our company, based in Shepherd's Bush, W12, is a well-known provider of gardening services. Covering all London areas, we offer highest quality at very competitive prices. We have many years of experience and a huge number of satisfied customers. Our multi-skilled gardening experts work fast but efficiently. Our flexible approach and our eagerness to provide highest quality services assure your satisfaction. Call us now!
In Shepherd's Bush, W12, London our gardening services company is what you need for your house garden, for the public area or even for the green areas in the office. We offer a long list of useful activities that will satisfy all your gardening needs.
We are also available seven days a week, weekends, holidays- every time you need us, we are there for you. We are flexible, affordable, friendly and professional.
Call us, you will receive all the information you need, also quotation and other details you might be interested in.
Professional Gardening in Shepherd's Bush, W12
They are available both during the week and on weekends, so select the time that fits you best and contact us. Hiring our well-trained professionals is the best way to assure accurate results. Don't hesitate no more! Call us now!
When you need gardening services in Shepherd's Bush, W12, London, you can easily solve all your problems by calling us.
We are offering gardening activities for your home, office or public areas. Along with the lawn mowing and hedge trimming, we are offering full garden maintenance and other specific activities that will please you with the results.
Our prices are according the services performed and we are sure you will like this.Please call for further details, quotation and conditions on our work.