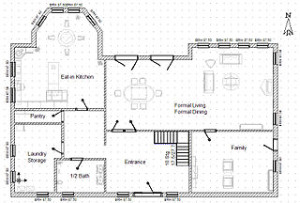 Do You Need Permission for your project?
The following guide should be regarded as an introductory and therefore it doesn't provide legal information.
Planning Information
You are strongly advised to get in touch with your local planning authority for a complete peace of mind. Make sure that all your doubts, concerning the project are disproved before taking any building actions.
Building regulations for the most common building projects:
House Extensions Regulation
Loft Conversions Regulation
Fence Installation Regulation
Conservatory Construction Regulation
Reroofing Regulation
Kitchens and Bathroom Refurbishment Regulation
Boiler installation and Central Heating Regulation
Building Regulations
The information, included in the Building Regulations, is intended to provide you with a better understanding of the factors and the Building Regulations, in particular, that are going to have an impact on your building project.
However, the guidance should not considered to be a definitive interpretation of the Building Regulations. Asking for professional assistance from an architect, a building surveyor, a heating or structural engineer, a window specialist, before starting the project is highly recommended unless you have enough knowledge about the building construction specifications.
Another recommendation you should definitely pay attention to is hiring a registered builder or installer to carry out the work for you.