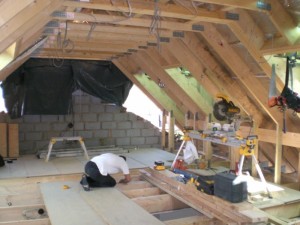 Professional loft conversion services in Abbey Wood, SE2 provided by HomeMates. Increase the living area of your house with our loft conversion service. Call now!
We are an established business in Abbey Wood, SE2, which offers Londoners high-quality loft conversion services. Our reputation is very good and this is not by chance. We can provide you with the most reliable and professional solutions for your loft that will help you get more space.
We can help you turn your attic into the room you've been aspiring to have: bathroom, playroom, study room, gym space, office, bedroom, etc. You can have it in the next few months if you contact our office staff members and request a service right away.
Contact HomeMates at 020 3745 4377 or at info@homemates.co.uk.
Building Services Prices
The prices can vary greatly depending on the size of the property and materials used. We strongly recommend to fill in the form or call us for a free quote.
Loft Conversion in Abbey Wood from HomeMates
If you are looking for nothing but the best quality of service, you can count on our company. We provide 100% excellent results every time. Rest assured you will make a great deal for your money.
More information about us:
Location: Abbey Wood, SE2
Competitive prices
Use of professional, high-end tools
High-quality results achieved every time
Flexible working hours
Here is a list of all the services we provide in Abbey Wood
Getting the space you need at home is very affordable and easy. All you need to do is contact our agency. There is no better way to have your attic converted in a professional manner. We have many years of experience in the building sector. We have worked with a number of clients so far and you can tell we have an idea of what people expect from their loft conversion service. We realise you want the best for your home. Without doubt, our company can meet your criteria and ensure the best results.
Loft Conversion Services in Abbey Wood, SE2
When dealing with your loft, we will consider your goals and expectations. We will also take into consideration the dimensions of your loft and whether it's suitable for an upgrade. When we figure out which type of conversion will be best in your case, we will start work. All plans needed will be carried out and submitted for approval. We will get everything ready as fast as we can. The duration of the whole process depends mainly on the type of loft conversion we will provide.
If you want to get the best loft conversion service in Abbey Wood, SE2, you should look for us. We are reputable and worthwhile. We can say that for sure because of the positive feedback we get from our past clients. Consider the opportunity of working with us. Give us a call when you're ready to book your loft conversion service.