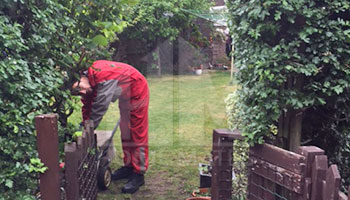 Do you have an office with a barren lawn or a home where you want a beautiful garden? You might spend your entire weekend gardening and possibly not spend time with your family or friends. We are an answer to your problem. We provide a quality gardening services in London. Call us and ask for lawn or gardening services, not limited to residential but also commercial as well. Choose from the options like maintenance, implantation of new plants, or recycling, we do it all. Our expert crew knows everything about how plants and soil need to be dealt with.
Nick
has been working for our company for 3 years as a Professional Gardener. With 10 years experience in the field he managed to cover more than 3500 addresses.
Vesko
works for our company for 1 year already. As he is specialised in shaping the bushes, lawn mowing and grass cutting, he helps to numerous Customers to maintain their gardens on daily bases.
Gardening Services Abbey Wood from HomeMates
If you want to maintain your garden in a nice and attractive condition, our gardening services can help you achieve that. Our gardeners can consult you on the way you can look after your plants, make some changes in your garden, help you create the garden design you want. They can provide you tree, bush and hedge shaping, removing of dead stumps and weeds, cleaning of your paved and garden areas. Use the help of our professional gardeners and landscapers to create a new garden design or receive the cares your garden plants need. Our services are provided in Abbey Wood, SE2, London every day.
If you have any enquiry or if you would like to get a quote, just give us a call on 020 3745 4377 or send us e-mail on info@homemates.co.uk!
Gardening Services Prices
We provide more services in Abbey Wood
If you want local gardening specialists to take care of your small or large garden that might be located in any area inside London, then we are the providing company that is located close to the Abbey Wood, SE2, London region and supplies an extensive range of gardening services to Abbey Wood, SE2 and all locations across the London city. Our gardeners have specialised in jungle taming and other gardening procedures. No gardening related problem is too big for our gardeners to tackle and no garden is too overgrown to be taken care of – our experienced, disciplined gardeners are wise enough to well-maintain all types of gardens.
Professional Gardening Abbey Wood, SE2
Depending on professional gardeners from time to time can be truly beneficial for your garden. If you want to improve the look of your place for a special occasion or just want to freshen up the external areas of your property a little, don't hesitate to call in our headquarters in Abbey Wood, SE2. We have experienced specialists for every job and we will send them to your real estate property for an inspection. Based on it our workers will consider what measures they can take to improve your garden's look. Just call our representatives and watch how your garden changes.