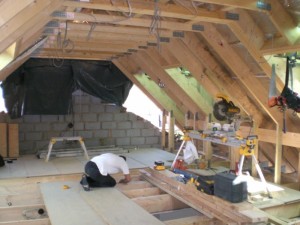 Professional loft conversion services in Anerley, SE20 provided by HomeMates. Increase the living area of your house with our loft conversion service. Call now!
Our company can create more space by making a few changes in your attic. What we deal with is loft conversion and we specialise in this type of service.
We have been in business for quite a long time and we are sophisticated and diligent. Our company is completely worth the try, as we provide top quality of performance and results every time.
Contact HomeMates at 020 3745 4377 or at info@homemates.co.uk.
Building Services Prices
The prices can vary greatly depending on the size of the property and materials used. We strongly recommend to fill in the form or call us for a free quote.
Loft Conversion in Anerley from HomeMates
If your home is based in Anerley SE20, we suggest you give us a call. We can convert your loft at a fair price and at a time you choose.
What else you need to know:
Our consultants will make sure to understand your ideas and goals
We will offer you the right type of loft conversion for you
All building regulations will be followed when carrying out the steps
All materials and products can be provided by our company
We promise 100% results
We are focused on helping residents of Anerley SE20 and our business is flourishing. We treat customers individually, making sure they get what they want. Our prices are good too.
Here is a list of all the services we provide in Anerley
Booking a service can be done in two ways. The first is to do it in writing. We offer an enquiry form that, after you fill it out, will be sent to us via e-mail address. We will consider your requests and write back or get in touch with you by phone.
Everything will be discussed and a meeting may be arranged. If you choose to use the second way of contacting us, you will have to dial our number. The benefit of calling us is that you will get in touch with us right way and speak in person with one of our assistants. You may ask them anything concerning our service and they will make sure you get satisfying answers.
Loft Conversion Services in Anerley SE20
Our loft conversion service follows certain criteria and building regulations and you can be sure our work is supervised by the authorities. Hence, every aspect of the service will be carried out with care and according to your expectations.
Another thing to mention is that we cover Anerley SE20. We will gladly help you provide more space in the house. Our staff will treat you well. We have well-mannered assistants and builders who always give their best to satisfy our clients' needs. If you are interested, call us.