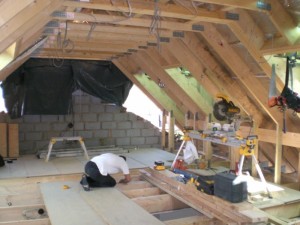 Professional loft conversion services in Arkley, NW7 provided by HomeMates. Increase the living area of your house with our loft conversion service. Call now!
Getting the most of your internal space is a matter of choosing the right company and the right service. Providing more space in the house is very easy. You need to try our loft conversion services. With this kind of service you can have that additional space you always wanted.
We are trained and prepared and we always give our best when it comes to loft conversion. We urge you to contact us if you ever need our service. Our staff are very polite and they will discuss everything you need to know with you when you call.
Contact HomeMates at 020 3745 4377 or at info@homemates.co.uk.
Building Services Prices
The prices can vary greatly depending on the size of the property and materials used. We strongly recommend to fill in the form or call us for a free quote.
Loft Conversion in Arkley from HomeMates
We offer the following types of loft conversion in Arkley:
Velux loft conversion
Hip to gable loft conversion
Dormer loft conversion
Mansard loft conversion
Here is a list of all the services we provide in Arkley
With a decade's experience our builders and specialists can offer you a loft conversion service that will meet all your expectations. We are prepared to discuss your criteria and goals so we can give you what you really need.
Dormer loft conversion creates additional headroom and floor space in the attic, for which reason it is suitable for small lofts. If there is not enough space inside the loft, another solution is to use hip to gable loft conversion. It is best applied to hip roofs. The most cost-effective loft conversion, however, is Velux. It is the most popular as well. Note that we need to inspect your loft to determine which type of loft conversion is the most appropriate.
Loft Conversion Services in Arkley NW7
The least expensive way to expand your lifestyle is to use our loft conversion services, which we provide in Arkley NW7. Our company is popular around London. We employ highly-qualified professionals who are not only very experienced and expert at this service, but they also understand our customers' needs completely. If it dawns upon you that you need more space and loft conversion is high on your list, make sure you call our company to provide the service you're looking for. We will be happy to receive a call from you, explaining your needs. We will arrange for a service right away. By giving us a call you can get a free estimate. Make sure you get in touch with us.