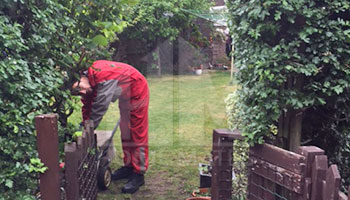 When you need gardening services in Arkley, NW7, London, you can turn to our company where you will get everything your garden needs – from grass up to the highest branches of the trees, we will take good care and special attention to every detail. And the best in our offer is that we will consider your needs too – with our flexible working time including Saturdays and Sundays and with special price offers to satisfy your budget fully.
Nick
has been working for our company for 3 years as a Professional Gardener. With 10 years experience in the field he managed to cover more than 3500 addresses.
Vesko
works for our company for 1 year already. As he is specialised in shaping the bushes, lawn mowing and grass cutting, he helps to numerous Customers to maintain their gardens on daily bases.
We offer:
Professional garden maintenance
Lawn mowing
Tree pruning
Hedge trimming
Landscaping
Our services are available for business and individual clients, so do not hesitate to contact us in case of garden services need.
If you have any enquiry or if you would like to get a quote, just give us a call on 020 3745 4377 or send us e-mail on info@homemates.co.uk!
Gardening Services Prices
Gardening Services Arkley from HomeMates
A well-maintained and flowery garden is everybody's wish but there are quite many hurdles in gardening. These include lack of knowledge and a hectic, sweating job. Our gardening services are well-known and one of the most wanted services in London. Our experts are of great help to our customers, whether it be growing flowers for beautification or plant trees as per client's requirements. Our gardening services are available in a very wide range and our professionals help in making your garden organically clean. Call us and get a quote as per your requirements, our customer service representatives are ready to help.
We provide more services in Arkley
Are you looking for gardening services in Arkley, NW7, London?
Are you seeking reliable, fast, correct and effective gardening services?
Are you longing for a company that comes at your convenience and charges fairly?
Well, stop the search now because you have found our gardening services company. Our gardeners are performing greatly at everything our company offers:
High quality gardening services
Full range of activities that will dignify your garden – lawn mowing, tree pruning, hedge trimming, garden maintenance and garden clean-up.
Seven days a week availability
Great prices
So when you need gardening services, just call us!
Professional Gardening Arkley, NW7
Anytime, anywhere in Arkley, NW7, London we are ready to provide you the gardening services your garden needs. From the important cleaning, through the simple, but essential maintaining and always ready for special activities such as Hedge trimming – not only to trim the hedges, but to make them beautiful and inspiring Lawn mowing – well, this is not as easy as it seems, and sometimes the grass needs fertilizers to grow properly, but take it easy – we know how to deal with your lawn
Tree pruning – there is no doubt that this services shall be performed only by professionals, right?