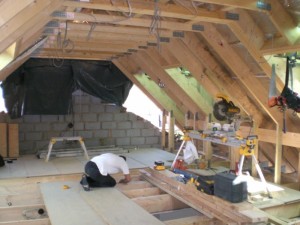 Professional loft conversion services in Bromley, BR1 provided by HomeMates. Increase the living area of your house with our loft conversion service. Call now!
In our professional company we help people by expanding their real estate properties, and more specifically, by performing a loft conversion. This is just the procedure you need, if you live in a real estate property with limited free space. With our help you will be able to improve your home by adding another premise.
The conversion of your loft will be done by the best specialists in Bromley, BR1 and the city, who will bring their personal equipment and will try to be done with the whole project for a couple of days. The loft conversion service of our agency will be the most affordable one you can find in London and certainly the most effective one.
Contact HomeMates at 020 3745 4377 or at info@homemates.co.uk.
Building Services Prices
The prices can vary greatly depending on the size of the property and materials used. We strongly recommend to fill in the form or call us for a free quote.
Loft Conversion in Bromley from HomeMates
Our procedures are just the ones you need because:
They can provide you with the desired change;
They can make you see that the expansion of your home is not so complicated after all;
They have very reasonable prices which will fit perfectly into your budget;
They will make you and your family very happy now that you have one more room in your house
Here is a list of all the services we provide in Bromley
The expansion of your house will be very easy because our employees are real professionals. With this simple procedure, they will be able to transform your home and make it look much better than before. As a bonus, you will also have more space which you can use for your unnecessary stuff or as an extra room.
The improvement which our employees will bring you will certainly change your life and will also make you and all of your other family members feel more comfortable while living in the place. We are an agency which offers low-cost loft conversion services not only in Bromley, BR1 but also in many of the other districts which are part of London.
Loft Conversion Services in Bromley, BR1
It is not necessary to try and find a little space for yourself in your small property any more. Through the professional loft conversion services in Bromley BR1, you will have all the extra space you want and without spending a large amount of money, too.
Simply dial our number and our specialists will tell you the rest. From the preparations and the necessary equipment, to the approximate time which will be needed for the completion of the loft conversion, all details will be explained to you by our well-mannered employees. Call them right now and give them a chance.