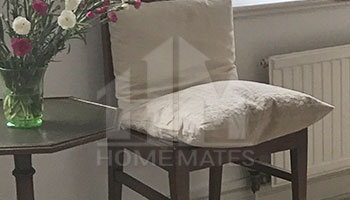 Keeping your home clean is important not only for the way it looks but also for your health. Do you know that if you don't vacuum regularly, the dust can make you not only less productive, but also cause you allergies and diseases? You probably don't want these things to happen to you or anyone from your family. So don't let it happen. It doesn't matter where you live – if it is in Bromley, BR1, or another part of Greater London. Don't worry, we cover all of them. Feel free to call us and provide yourself and your family with a clean and healthy environment.
Nedka
is in her early 50's and she is one of our finest cleaners. The saying 'Age ain't nothing but a number' defines her.
Daisy
is challenging herself in order to become an expert. She is practicing her skills on daily bases and do not accept anything but sparkling home.
Galina
is one of our brightest cleaners. Fond of household pets and children. Galina works quickly and up to a high standard.
Yulia
is a brilliant cleaner, who works quickly and catches on to each and every one of our customers' needs.
Home Cleaning in Bromley from HomeMates
Our house cleaners are definitely among the most reliable and experienced ones in the area of Bromley, BR1 and if you just book our service, you will realize that on your own. They will surely take care of your home as if it is theirs because they are true professionals who treat any place delicately and efficiently. After their work, the house becomes a new place – clean, shiny and fresh and that happens in no time because our procedures are quite improved. Find our team in other London districts as well and get your place perfectly treated, cleaned and also ordered.
E-mail us at info@homemates.co.uk or call us on 020 3745 4377 and our customer care team will gladly explain you even the smallest details about our cleaning services.
Domestic Cleaners in Bromley
We can handle any type of cleaning, but our best cleaning priority is probably the house cleaning. We operate in Bromley, BR1, London and if you are in need of house cleaning services, then waste no more time – get the phone and contact us. We take pride at what we do and we know how important is for you to have your property cleaned. The time doesn't matter – we work even on Saturdays and Sundays, and we are always ready to send our cleaners at your place at the right time and day. But enough with the small talks – let's get down to business!
HomeMates Cleaners Bromley, BR1
Our home cleaners will take care of everything in your home – skirting boards, floors, hard surfaces, appliances, windows, interior, etc. We guarantee that there is no better cleaning agency in Bromley, BR1, London and we are more than willing to prove you this. Our cleaning procedures are specially designed with the help of professionals who have been in this business for many years. Due to this fact we are more than happy to announce that we are ready to take any kind of project, no matter of its size – all you have to do is to call us and book our services.