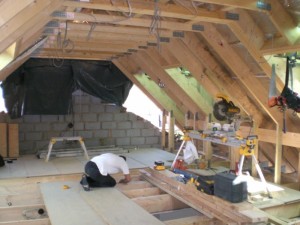 Professional loft conversion services in Kilburn, NW6 provided by HomeMates. Increase the living area of your house with our loft conversion service. Call now!
We are professional builders based in Kilburn NW6, dealing with loft conversion. We are very hard-working and responsible. Our service is quite affordable and we promise to carry out a loft conversion program that will fit your budget.
We offer several types of loft conversion, have modern equipment and are prepared to meet all building regulations and standards. If you need more space in your home, this service is suitable for you. With a loft conversion you can create an additional room within the property. Find out more by giving us a call.
Contact HomeMates at 020 3745 4377 or at info@homemates.co.uk.
Building Services Prices
The prices can vary greatly depending on the size of the property and materials used. We strongly recommend to fill in the form or call us for a free quote.
Loft Conversion in Kilburn from HomeMates
What we will do:
Inspection of loft
Deciding if the loft can be converted
Preparation
Start of work
Final touches and inspection
Here is a list of all the services we provide in Kilburn
There are many things to consider when converting your loft and we realise you are looking for reliable contractors who can get the job done pretty well. It's a big investment that will last for a long period, so we make sure every step of the project is carried out the right way. If your property is situated in Kilburn NW6, you should definitely consider using our agency.
There are several factors that will decide your loft's future. During the inspection of the place, we will have a look at the head height, type of structure and pitch angle of the construction to determine whether your attic can be converted or not. Once we confirm conversion suitability, preparation can begin. We will discuss your opportunities and suggest a few ideas.
Loft Conversion Services in Kilburn NW6
We will provide the necessary materials and machines for the project and begin work at the time we agreed upon in advance. It may take days or weeks before we finish the project. We may extend your loft if we have to, add windows and do any other necessary upgrades. Once we finish work, we will make another inspection of the place to check if everything is done correctly.
Upon completion of the service, your loft will be a nice and cosy room with sufficient space for your possessions and furniture. What you will be using it for, it is up to you. Our job is to make it possible for you to add extra space at home. At present, there are several London areas we cover and one of them is Kilburn NW6. We believe our builders will get the most out of your attic without costing you a lot of money. If you are tempted to try our company, we suggest you get in touch with our consultants who will help you with booking and scheduling. Make an appointment.