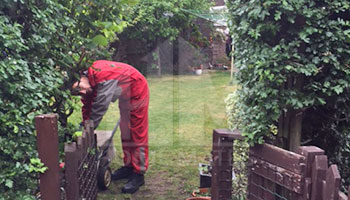 HomeMates provides various gardening services in Kilburn NW6. Our gardeners can offer you lawn mowing, hedge trimming, tree pruning and other gardening services.
Are you struggling to find reliable gardening services in the area of Kilburn NW6? If you do, then call us now. Our company will provide you with every service your garden needs.
Nick
has been working for our company for 3 years as a Professional Gardener. With 10 years experience in the field he managed to cover more than 3500 addresses.
Vesko
works for our company for 1 year already. As he is specialised in shaping the bushes, lawn mowing and grass cutting, he helps to numerous Customers to maintain their gardens on daily bases.
Gardening Services Kilburn from HomeMates
Here are some of the services we offer you:
Lawn mowing
Hedge trimming
Planting – ground preparing and planting
Pruning – plant maintenance
Turfing
Garden clearance
Grass reseeding
Lawn aerating
We give you the fair price and the respect you are looking for. Our teams of professional gardeners are here for you every day of the week including bank holidays.
If you have any enquiry or if you would like to get a quote, just give us a call on 020 3745 4377 or send us e-mail on info@homemates.co.uk!
Gardening Services Prices
Here is a list of all the services we provide in Kilburn
Our team of experienced gardeners will be on you address in a matter of hours after booking anywhere in the Kilburn NW6 area. They will bring all professional tools needed. We pride ourselves with respecting our customers and their property because we are not here to waste your time but to do our job.
Many customers complain about the grass and ask why it turns brown. Unfortunately, it is difficult to determine the reasons. Sometimes, if it was mowed with a very dull mow blade the tips of the grass were be ripped and then they turn brown, which gives the entire lawn a bad look. That's why we make sure that our lawn mower blades are sharp.
Professional Gardening in Kilburn NW6
If there are bald spots in your lawn our gardeners will have to reseed this particular spot. They will first spread the seed and then cover them with mixture of turf and sand. Another important step in the garden maintenance throughout the year is the lawn aerating. This is a procedure on making little hole in the ground, which will help aerating roots helping them absorb more nutrients and prevent mould and diseases.
The final step we will do for your garden is the fertilizing. A lot of people put too much fertilizer or the wrong type of fertilizer. This may kill your lawn or cause serious damage to the grass as well as pollute the environment. So, you should trust our gardeners with this task.
No matter you want maintenance or complete reshaping for your garden, our company is here in Kilburn NW6 to provide you with the best gardening services. Don't hesitate and book now!