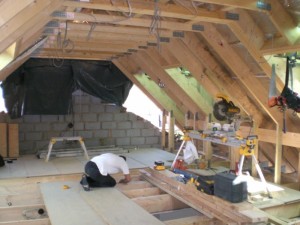 Professional loft conversion services in Morden, SW19 provided by HomeMates. Increase the living area of your house with our loft conversion service. Call now!
Are you interested in making your loft a useful room? Then you should turn to our company. We deal with loft conversion and our service is widely available in and around Morden, SW19. Our mission is to make the people who use our service happy with the results we obtain. We use high-end equipment to make this happen.
We have a team of specialists responsible for planning, scheduling, consulting and building. They will take care of your loft conversion and make the most of the space inside your house. Give us a chance to prove we are worth calling. Get in touch with us to schedule a consultation.
Contact HomeMates at 020 3745 4377 or at info@homemates.co.uk.
Building Services Prices
The prices can vary greatly depending on the size of the property and materials used. We strongly recommend to fill in the form or call us for a free quote.
Loft Conversion in Morden from HomeMates
We are not just a loyal and trustworthy company, but we are also very affordable. Our rates are among the benefits we have, the other being:
Very organised and disciplined
Professionally-screened and certified
Equipped with the very best of equipment
Reliable, punctual and responsible
Here is a list of all the services we provide in Morden
You can make your loft a desired destination in the house. Regardless of how big it is, you can make it functional by providing a couple of changes here and there. Our team of builders is here to give you a helping hand with this process, as we know it requires specialists to handle it the right way.
Loft Conversion Services in Morden, SW19
When you know your house is too small to accommodate your guests or your personal possessions for that matter, the best thing you can do is to consider creating extra space. The least expensive method that can help you do the trick is to use our loft conversion service in Morden. We can open up more space in your home by making the most of your attic. We will add windows and extend part of the loft if necessary (depending on the type of loft conversion we'll do). We work with the finest products and materials, using state-of-the-art equipment, and the results we provide are always of high quality. You should see for yourself.
We are accustomed to working a flexible schedule, which includes Saturdays, Sundays and bank holidays. You can get in touch with us right away. Our trained office staff will handle your requests almost immediately and provide you with the information you need. If you prefer to speak to us directly, use our phone lines. It takes only a few minutes to have that conversation that can set things going. If you prefer writing to us, use our e-mail address. We will be happy to help you either way. We'll be waiting for your call.