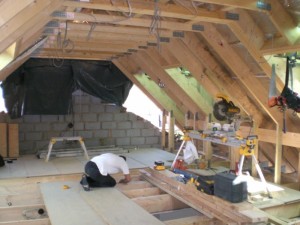 Professional loft conversion services in Norbury, SW16 provided by HomeMates. Increase the living area of your house with our loft conversion service. Call now!
If there isn't enough space for your stuff in the house, perhaps you need to make some changes. Loft conversion, for example, is a great way to create extra space at home. Our company strongly recommends you engage us to do all the work if you're going to use a loft conversion service.
Our service is one of the most professional loft conversion services in Norbury, SW16. Our reputation is good, our prices are competitive and our attitude is friendly. We are available seven days a week. You need to get in touch with us to learn more about our service.
Contact HomeMates at 020 3745 4377 or at info@homemates.co.uk.
Building Services Prices
The prices can vary greatly depending on the size of the property and materials used. We strongly recommend to fill in the form or call us for a free quote.
Loft Conversion in Norbury from HomeMates
We are:
Very meticulous and detail-oriented
Professionally-screened
Knowledgeable about conversions, building standards and building techniques
Careful and quiet
Here is a list of all the services we provide in Norbury
We have spent years running this business in Norbury and we are aware of every single detail that should be taken into consideration, such as scrutinising the loft to see if it is suitable for such a project, obtaining permission and providing final adjustments to make sure the client is happy with the final results. Have a close look at our service below.
Loft Conversion Services in Norbury, SW16
You can book a service in Norbury, SW16. Our polite staff will guide you through the whole process, from scheduling a date to doing all the work. We need to have a discussion with you about your expectations. We'll check your attic, make measurements and provide additional details. All the work will be completed in time according to the highest standards. We promise that after the conversion your loft will become a habitable room. We will provide the space you need to accommodate your personal belongings. You can even transform your loft into a study room or office. When the project is completed, we will take all the equipment, remove the mess we left behind and leave your property.
Getting in touch with us will help you get answers to all the questions you have. If you're eager to know whether we can convert your loft so that it's functional and beautiful, hurry up and give us a call now. Another way to discuss your goals with us is to email us. It just takes a little while until we get back to you. No matter which was you choose to contact us, we will provide you with the information you're looking to get. Make sure you book a service and leave the rest to us.