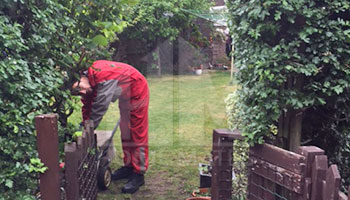 HomeMates provides various gardening services in Norbury, SW16. Our gardeners can offer you lawn mowing, hedge trimming, tree pruning and other gardening services.
If you want to maintain your garden in a good condition and keep your plants developing properly, you can use our excellent gardening services. They will provide you the lawn, hedge, trees, plants and soil care and maintenance you need.
Our gardeners will ensure you beautifully designed and arranged gardens with lots of different flowers, trees and plants, looked after properly. You can rely on them to make the corrections and improvements your garden needs most.
Keep your garden in a great shape and appearance by using our reasonably priced gardening services. They are available seven days in the week for all customers living in Norbury, SW16, London.
Nick
has been working for our company for 3 years as a Professional Gardener. With 10 years experience in the field he managed to cover more than 3500 addresses.
Vesko
works for our company for 1 year already. As he is specialised in shaping the bushes, lawn mowing and grass cutting, he helps to numerous Customers to maintain their gardens on daily bases.
Gardening Services Norbury from HomeMates
Our gardening services will offer you the professional cares you need for all the plants in your garden. They include:
Turf laying
Soil fertilizing
Weed cleaning and removing
Tree surgery
Fencing
Cleaning of paved areas in and around your garden
Bush trimming
Hedge maintenance
Lawn mowing
Garden cleaning
Plant seeding
If you have any enquiry or if you would like to get a quote, just give us a call on 020 3745 4377 or send us e-mail on info@homemates.co.uk!
Here is a list of all the services we provide in Norbury
Gardening Services Prices
If you need professional gardening for your plants, call us and order our affordable services. Our gardeners will take care of your bushes, hedges, trees, flowers and soil. They can install a fence around your garden, look after your garden lawn, remove excess branches from your trees and much more. If you want to have new plants, our gardeners will seed them in the desired places.
Professional Gardening in Norbury, SW16
Our gardening services will provide you the plant care and additional services you need most. They are at your disposal in Norbury, SW16 every day, including at the weekends and holidays. Call us and order the gardening services you need, scheduled for a preferred date and time, which suits your busy daily routine.
Our gardeners will remove all wastes from your garden, clean the cut and fallen branches and leaves. If you need regular garden maintenance use our professional gardening services to restore your garden. We can offer you consultation on the way you can look after your plants, soil fertilizing, hedge and bush shaping, fence installation, lawn mowing.
Our gardeners will inspect your garden and offer you the best solution for your problems with the plants in it, that you might have. We can offer you seven days a week available gardening services, provided in Norbury, SW16 on very affordable price. Call us or send us an e-mail. We are ready to assist you the best possible way.