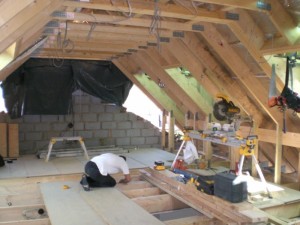 Professional loft conversion services in Totteridge, N20 provided by HomeMates. Increase the living area of your house with our loft conversion service. Call now!
If you are considering hiring a professional loft conversion company and you are positioned in Totteridge, N20, we suggest you give us a call. Our company is a pro in loft conversion. We have been occupied with this for a long time and we dare say we are very competent at this service.
We employ builders who have enough experience and sharp skills. We can assure you we will provide a complete loft conversion service, from consultation to installation of windows and doors. If you are interested, don't hesitate to get in touch with us. Get more information about our service using our call centre.
Contact HomeMates at 020 3745 4377 or at info@homemates.co.uk.
Building Services Prices
The prices can vary greatly depending on the size of the property and materials used. We strongly recommend to fill in the form or call us for a free quote.
Loft Conversion in Totteridge from HomeMates
You don't have to spend a pretty penny to get your loft converted in a professional way. Our company understands people's needs and it's ready to offer you a cost-effective solution to your problem. If you are desperate to make more space in the building, this is your chance to do it – hire our company.
What we do:
Inspect lofts, schedule plans and provide the best solutions
Consult our clients on their options
Help clients choose the best type of loft conversion
Work 7 days a week
Covering Totteridge area
Here is a list of all the services we provide in Totteridge
We will readily discuss your options with you after we examine your loft in detail. We need to know a few things before we can start the project. This is something we are not only good at, but we also have certificates for, so don't worry about the job.
Loft Conversion Services in Totteridge, N20
Once you hire our company, your loft will be in skilled hands. We involve a great deal of experts to handle a job of this kind – from consultants and architects to builders. There are several stages of the loft conversion process and we are prepared to tackle each of them in a professional manner. We are also responsible for getting permission. In most cases, it is not required, however. Let us decide what should be done for your loft, we know better.
Our services are the best you can get in Totteridge, N20. We are very communicative and friendly. You will book a service with ease. The only thing you need to do is dial our contact number, give us your details and let us examine your loft. We will take care of the rest. If you want to hire our specialists, get in touch with them. We'll be glad to help.