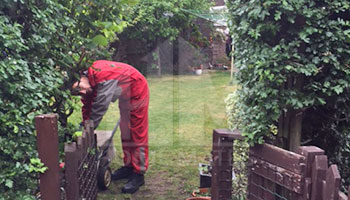 HomeMates provides various gardening services in Totteridge, N20. Our gardeners can offer you lawn mowing, hedge trimming, tree pruning and other gardening services.
Not being able to turn your attention to your outdoor space? Too busy to maintain your garden? Why not use our help? Getting what you want is just a phone call away! Get help from the professionals – our gardening experts from Totteridge, N20 who are at your service 7 days a week.
Nick
has been working for our company for 3 years as a Professional Gardener. With 10 years experience in the field he managed to cover more than 3500 addresses.
Vesko
works for our company for 1 year already. As he is specialised in shaping the bushes, lawn mowing and grass cutting, he helps to numerous Customers to maintain their gardens on daily bases.
Gardening Services Totteridge from HomeMates
You can bring the best out of your outdoor area thanks to our inexpensive, effective gardening services in Totteridge, N20. Apart from our prices, there are many other things that make us better than the others.
Why choose us:
Flexible working hours
Speedy and timely services
Affordable prices
Easy booking
Team of professionals
We offer a wide variety of horticultural tasks as well as general maintenance, from lawn mowing to planting and fertilising. We are always there for you, no matter if you only need us to cut your grass and keep your hedges in shape or to provide more detailed gardening.
We are pretty sure your neighbours will be jealous of how your garden looks. Get in touch with us to get a service.
If you have any enquiry or if you would like to get a quote, just give us a call on 020 3745 4377 or send us e-mail on info@homemates.co.uk!
Gardening Services Prices
Here is a list of all the services we provide in Totteridge
We provide everything from professional expertise to additional adjustments and final touches to create a beautiful and tidy garden of which everyone will be proud. If your agenda is so busy you can't even find the time to fertilise your flowers, our handy gardeners will get the job done in no time. We are experts in all sorts of gardening tasks, from small ones to big ones, and we always do our best to yield the expected results.
Professional Gardening in Totteridge, N20
We can also cut the grass, remove clutter, cut and shape your bushes and hedges, prune the trees and the like. Anything you wish, anything you can't do by yourself – we have it covered. Don't worry about your lawn or your general garden appearance. After our visitation, it will be more than perfect.
By leaving gardening in our skilled hands, you will have one less thing to do and worry about. Hence, you will be able to use the rest of your free time much more productively. Let us take care of your garden and we will make it look fantastic with just one visit. Don't miss out on the chance to work with us on your garden if you live in Totteridge, N20. It will be a pleasure for us to help you achieve your goals. Give us a call.