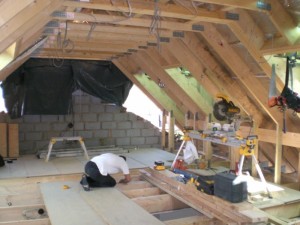 Professional loft conversion services in Wood Green, N22 provided by HomeMates. Increase the living area of your house with our loft conversion service. Call now!
When you choose to convert your loft with our professional company, you receive a trustworthy partner for this important renovation. Even though this is a common procedure which many people decide to do in their properties in order to receive a little more space, it is still important to find professionals who can do it properly.
Our agency has a team of the best architects who can do a loft conversion as soon as tomorrow. Giving them a chance to plan and then perform the transformation of your loft will be perfect because they can do it faster and better than all of their competitors. For reservation, call to Wood Green N22.
Contact HomeMates at 020 3745 4377 or at info@homemates.co.uk.
Building Services Prices
The prices can vary greatly depending on the size of the property and materials used. We strongly recommend to fill in the form or call us for a free quote.
Loft Conversion in Wood Green from HomeMates
Using our company guarantees that:
The loft conversion you will get will be professional;
The procedure you book will be performed within the appointed period;
The price will not be too high, considering the excellent results;
The loft conversion will be planned in advance to be avoided any mistakes
Here is a list of all the services we provide in Wood Green
The conversion will inevitably make a mess because it includes not only moving of everything you keep in that place but also changing of the whole design of your attic. For the procedure our specialists will use tools and machines that are provided by our agency and you can discuss the details about the materials and other things which will be needed for the conversion. Our professionals can take care of the providing of everything necessary as well, after you decide what kind of room you want to have.
Loft Conversion Services in Wood Green N22
Our employees have the necessary expertise to give you a professional loft conversion service that can change your home for better. We have big equipment that is used by our builders and other specialists for the execution of every procedure. It will be used for the successful conversion of your loft as well. To get a chance to try our excellent procedures, first make a call or pay a visit to our specialists in Wood Green N22. They will make everything clear and will also tell you precisely how much could cost you a procedure like this.
Our professionals can come to your home whenever it's convenient for you and look around the attic in which they will execute a conversion in Wood Green. This is an important step of the transformation process of your loft and they need to do it. Then all that is left is the work and after a couple of days your new room will be ready.