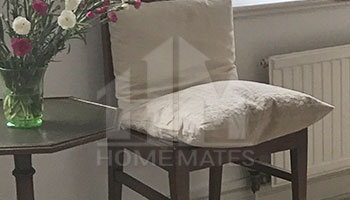 Keep your home neat and clean thanks to the professional home cleaning services provided by HomeMates in Clapham, SW4. Book your cleaner now!
You don't have to be a clean freak to have a shiny and tidy home. In fact you can spend zero time cleaning, if you use our company. We are professional maids who work within Clapham, SW4 every day and provide high-quality home cleaning services.
Nedka
is in her early 50's and she is one of our finest cleaners. The saying 'Age ain't nothing but a number' defines her.
Daisy
is challenging herself in order to become an expert. She is practicing her skills on daily bases and do not accept anything but sparkling home.
Galina
is one of our brightest cleaners. Fond of household pets and children. Galina works quickly and up to a high standard.
Yulia
is a brilliant cleaner, who works quickly and catches on to each and every one of our customers' needs.
Home Cleaning in Clapham from HomeMates
One of the best features of our service is that it saves time. So instead of spending your weekend dusting your shelves, scrubbing your bathroom surfaces and vacuuming your living room, bedroom and kitchen, you'll be able to enjoy your time doing the things you love. Our service is also:
Hassle-free;
Stress-free;
High-quality;
Reasonably-priced
Many Londoners recognise our company as the most reliable and worthwhile cleaning provider in the city. Lots of them have tried our services or currently use them and they seem delighted. We promise to achieve the best results when taking care of your property. Give us a chance to prove you we're trustworthy. Call us.
E-mail us at info@homemates.co.uk or call us on 020 3745 4377 and our customer care team will gladly explain you even the smallest details about our cleaning services.
Here is a list of all the services we provide in Clapham
Our service covers some of the domestic chores like laundering, ironing, dusting, de-cluttering, dishwashing, vacuuming, emptying rubbish bin, etc. We work around every single room in the house.
Our maids undergo regular training to keep their skills sharp. They are constantly informed about new methods of cleaning, new tools and supplies they can use and the like. This helps them improve and make our home cleaning service better and better. Therefore they can easily make sure customers are satisfied with the results.
Home Cleaning Clapham, SW4
It is also important to note that we have regular cleaning services. Which means you can hire a maid who will look after your home day-to-day without bothering you or disturbing your daily life.
We serve Clapham, SW4 but we also cover other areas of London. Be sure to get in touch with us to ask us about your residential area. We'll give you all the details you need and we'll also do our best to help you keep your home spic-and-span.
One of the best ways to keep your home interior sparkling is to use our high-quality home cleaning services. We guarantee that your property will be free from dirt and bacteria. If you choose our regular cleaning service, you won't ever need to spend a single minute doing the chores. So, what are you waiting for? Grab the phone and dial this number. Our consultants will answer promptly. Give us a chance.