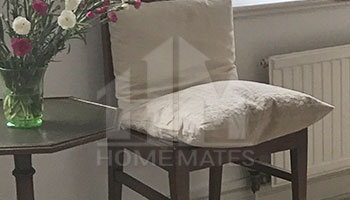 Nowadays a lot of people live in the fast lane and don't have enough time to clean the place where they live. That is why we are here – to do it instead of you. Don't take a day off just to clean everything at home, when our maids would be glad to do it for you. They are experts in cleaning and will make your home shiny and fresh again. We offer you our home cleaning service at the best prices for Dollis Hill, NW2. Don't hesitate any longer, call us, we are available every day, including weekends and official holidays.
Nedka
is in her early 50's and she is one of our finest cleaners. The saying 'Age ain't nothing but a number' defines her.
Daisy
is challenging herself in order to become an expert. She is practicing her skills on daily bases and do not accept anything but sparkling home.
Galina
is one of our brightest cleaners. Fond of household pets and children. Galina works quickly and up to a high standard.
Yulia
is a brilliant cleaner, who works quickly and catches on to each and every one of our customers' needs.
Home Cleaning in Dollis Hill from HomeMates
We all face great difficulties trying to be successful both on career and on domestic level. However, it is almost impossible to be perfect on both fronts and usually it is the domestic level that is left behind. We do not find enough time to clean deeply everything and our house is not this cozy place you want to be in where you come back from work. That is why you should entrust our house cleaners at least with the cleaning of the house. You can find us in Dollis Hill, NW2 and in a lot of houses around Greater London. For additional information you are welcome to use the phone number given.
E-mail us at info@homemates.co.uk or call us on 020 3745 4377 and our customer care team will gladly explain you even the smallest details about our cleaning services.
Domestic Cleaners in Dollis Hill
Day to day domestic chores such as dusting, vacuuming, wiping surfaces, mopping, cleaning, washing, ironing etc, are a big problem for busy people who have little time to manage household chores. Since London residents who do not have sufficient time for performing day to day household chores look for a solution, so, we are locally supplying domestic help to such people. Our domestic help will deeply clean all surfaces of your house including furniture surfaces, floors, walls etc, on daily basis and leave them with the perfect finish. You, your guests, friends and family members will definitely like the daily cleaning results.
HomeMates Cleaners Dollis Hill, NW2
We know it is extremely difficult to find a good domestic cleaner in London because very few domestic cleaners are trustworthy and efficient. However, get the right solution of your problem from us because our residential cleaning agency that exists in the Dollis Hill, NW2 zone of your city can supply you highly professional, experienced, police-checked, fully insured, dedicated, honest, local housemaids to your house in any region of the London city. We will provide you the most suitable domestic cleaner and you can build a good rapport with the domestic cleaner because all our domestic cleaners are very friendly, communicative, and confident.