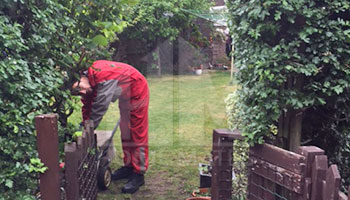 HomeMates provides various gardening services in Balham, SW12. Our gardeners can offer you lawn mowing, hedge trimming, tree pruning and other gardening services.
Our company has been dealing with professional gardening services for years. We are one of the most reliable providers of such services in the whole area of Balham, SW12, where we are located.
Nick
has been working for our company for 3 years as a Professional Gardener. With 10 years experience in the field he managed to cover more than 3500 addresses.
Vesko
works for our company for 1 year already. As he is specialised in shaping the bushes, lawn mowing and grass cutting, he helps to numerous Customers to maintain their gardens on daily bases.
Gardening Services Balham from HomeMates
Among the advantages we offer, you can find:
Super affordable prices
Highest quality on the market
Great experienced gardeners
A variety of gardening solutions
Latest technology and equipment
Our company has always done its best to provide clients with the best services on the market and please all of their demands. We have many years of experience under the belt and have found the way to satisfy our customers with our excellent gardening services.
If you have any enquiry or if you would like to get a quote, just give us a call on 020 3745 4377 or send us e-mail on info@homemates.co.uk!
Gardening Services Prices
Here is a list of all the services we provide in Balham
We understand how much time, devotion and energy a garden can take and what an amount of skills it requires. Nowadays it can be quite a challenge for a busy person to spend all that time working on their gardens. However, this does not mean that it's not possible to enjoy a beautiful and healthy garden. Here comes our company to help you out and take perfect care of your garden.
Professional Gardening in Balham, SW12
Our agency has been offering a variety of gardening solutions and has worked for a number of residential and commercial customers. We have completed hundreds of great projects across the whole area and have thus become popular with our excellence, professionalism and dedication. To make our clients happy, we provide them with a range of benefits that make our gardening services in Balham, SW12 very attractive.
We have proven multiple times that our greatest drive is the love we have for gardening. We enjoy livening gardens up and seeing them become healthier than ever. The enthusiasm we work with is what helps us achieve such wonderful results and complete every single project we undertake with success. Our company has an experienced crew of motivated and super friendly gardeners, who will not only help you freshen up your garden but will also provide you with important information you might be interested with.
Our professionals are among the best gardeners in the whole industry in London and are always ready to provide a garden with the needed help. To make the best of your garden, you just have to give us a call and we'll make an appointment that corresponds to your schedule. Our gardening team will arrive to the appointed place and cope with the problem in the most professional and efficient way possible. Become part of the best gardening services in Balham, SW12.