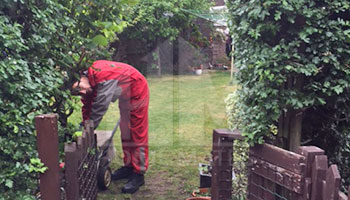 HomeMates provides various gardening services in Bayswater, W2. Our gardeners can offer you lawn mowing, hedge trimming, tree pruning and other gardening services.
If you are looking for experienced provider of gardening services available in Bayswater, W2, we have the perfect solution for you. Our experienced company provides wide range of highest quality services on the territory of London.
Nick
has been working for our company for 3 years as a Professional Gardener. With 10 years experience in the field he managed to cover more than 3500 addresses.
Vesko
works for our company for 1 year already. As he is specialised in shaping the bushes, lawn mowing and grass cutting, he helps to numerous Customers to maintain their gardens on daily bases.
Gardening Services Bayswater from HomeMates
We perform gardening services in Bayswater, W2, London like:
Professional Lawn Mowing
Landscaping and Garden Design
Hedge Trimming
Turf Laying
We use the best equipment to perform the job, so we guarantee you excellent results. Our multi-skilled gardening experts are properly trained. Their primary goal is to meet and exceed your expectations. In order to fit your busy lifestyle, we work every day, including on holidays. Contact us!
If you have any enquiry or if you would like to get a quote, just give us a call on 020 3745 4377 or send us e-mail on info@homemates.co.uk!
Gardening Services Prices
Here is a list of all the services we provide in Bayswater
Our prices will amaze you pleasantly and you will be pleased to know we work every day of the week.
We strive to provide all our customers in Bayswater, W2 with the best gardening services possible. Our experienced company is a well-known leading provider, available in all areas of London. We believe that highest quality and low-cost pricing should go hand-in-hand, so we guarantee you excellent results at very reasonable prices.
Professional Gardening in Bayswater, W2
Our gardening experts are highly motivated; their individual approach to your specific needs assures your satisfaction. Select the time that suits you best and call us. We work every day, including on holidays. We are here for you, dear domestic or commercial customers. We mow the lawns and we trim the hedges.
The work we perform is not simple gardening services, we see gardening more like art – with the proper tools, right fertilizers, lots of love and special care to each plant.
You want a personal garden, a wonderful place to enjoy and a green area to make you feel proud. In this case you need some professional touch in Bayswater, W2, London and you can choose our gardening services. We offer everything you need – from the lawn mowing to tree pruning and full maintenance, we can do it all.
Check out all happy customers we have.
We are so popular because we love gardening and this is a real bless for us. Please call for further details.