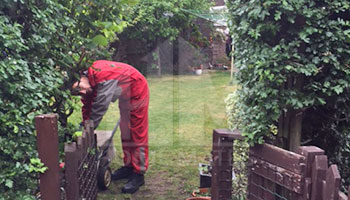 Do you like to spend your entire weekend or holiday doing the gardening chores? We realise that most of the people don't like to spend all the free time performing the regular gardening chores, and if they have some affordable alternative, they would go for that. So, we have founded a gardening services company to provide reasonably priced, comprehensive lawn and garden maintenance services to the inhabitants of UK capital region. We would be delighted if you trust our company (centrally located in Brockley, SE4 region of the London city) to perform a regular or one-off gardening or lawn maintenance job.
Nick
has been working for our company for 3 years as a Professional Gardener. With 10 years experience in the field he managed to cover more than 3500 addresses.
Vesko
works for our company for 1 year already. As he is specialised in shaping the bushes, lawn mowing and grass cutting, he helps to numerous Customers to maintain their gardens on daily bases.
Gardening Services Brockley from HomeMates
The gardening has always been a favourite topic for our employees. Their knowledge allows them to help people from Brockley, SE4, as well as residents of other areas in London, maintain their big and small gardens in excellent condition. They will speak with you in advance, in order to understand better your ideas. Only after everything is clear they will move on to the actual work which won't take much time for sure. Let our professional gardeners make your real estate property better. You will have less things to worry about, in case you decide to depend on our specialists.
If you have any enquiry or if you would like to get a quote, just give us a call on 020 3745 4377 or send us e-mail on info@homemates.co.uk!
Gardening Services Prices
We provide more services in Brockley
You can keep your garden plants in a blossoming and well maintained condition, at the same time having the necessary free time, if you rely on us to provide you the gardening services you need. We can offer you professional cares and advices, concerning your plants and garden. If you need hedge trimming, bush and tree cares and shaping, lawn mowing, general garden cleaning, our skilled gardeners are at your disposal. They have a lot of experience and can turn every open green area into the garden that each customer needs. Use our services, provided in Brockley, SE4 at a time, convenient to you.
Professional Gardening Brockley, SE4
We are respected business owners in London; we belong to the gardening industry of London. We lead the industry – particularly when it comes to gardening services, no other company can beat us. Our gardening services that are offered to numerous esteemed clients across the London city, are admired by all the individuals who have obtained our garden maintenance packages. A number of teams of fully trained, professional, deft, and loyal gardeners are operated by our London based gardening services firm; these teams provide a full range of gardening services across London and our serviceable locations include Brockley, SE4.