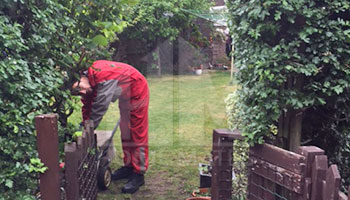 HomeMates provides various gardening services in Edmonton, N9. Our gardeners can offer you lawn mowing, hedge trimming, tree pruning and other gardening services.
Tired of your overgrown grass and messy garden? It's time to call our horticultural experts from Edmonton, N9. We are occupied with providing gardening services in several London areas and we will gladly take a look at your garden as well.
Nick
has been working for our company for 3 years as a Professional Gardener. With 10 years experience in the field he managed to cover more than 3500 addresses.
Vesko
works for our company for 1 year already. As he is specialised in shaping the bushes, lawn mowing and grass cutting, he helps to numerous Customers to maintain their gardens on daily bases.
Gardening Services Edmonton from HomeMates
Here in Edmonton, N9, we are one of the most reliable gardening services. We offer top quality of workmanship and unbeatable prices.
Check us out:
Latest gardening equipment
Amazing horticultural practices
Satisfying gardening
Rewarding results
We have lots of experience in this business, the right equipment and attitude, and we use the best techniques. Our gardeners are trained, skilled and insured. They are available every day, even during weekends, so if you need a reasonably-priced gardening service to be carried out on Saturday or Sunday, it's no problem for us.
If you have any enquiry or if you would like to get a quote, just give us a call on 020 3745 4377 or send us e-mail on info@homemates.co.uk!
Gardening Services Prices
Here is a list of all the services we provide in Edmonton
Having a large outdoor area requires lots of time for maintenance. If it were the only thing you have to do, you would be able to maintain it by yourself, but since there is so much going on in your life, with kids, career and responsibilities, you'd better use our professional gardening services. They will save you time and will spare your nerves.
You can absolutely count on our gardeners from Edmonton, N9 to design your garden, mow the lawn and take care of your flowers and bushes. Don't be afraid to call in our experts as many times as you wish. They tend to be on time for every service. How long we will work around your outdoor area depends on the type of job we will carry out.
Professional Gardening in Edmonton, N9
Garden tasks we offer:
Lawn mowing – many people only need someone to tackle their lawn. We come prepared with the latest lawn mowers which are very effective and produce amazing results. We recommend you use our service every week to keep your grass healthy and good-looking.
Hedge trimming – apart from a lawn, some people also have bushes and hedges. They have to be trimmed from time to time to keep them tidy and neat. Using all the garden tools necessary for this, such as garden shears and trimmers, we will cut your hedges the right way.
Tree pruning – this service helps trees look nice and become strong. Its purpose is to dispose of damaged or dead branches that prevent new growth. As with hedge trimming and lawn mowing, it has to be performed correctly to achieve the desired results.
We can help you do much more for your garden in Edmonton. Give us a call and we'll discuss your opportunities.