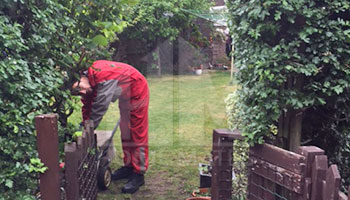 If you are seeking an effective gardening or lawn maintenance service in London, then please go through the website of our accomplished company, located in Kennington, SE11 zone of London. Our website intends to give you an insight into the services our company can give you to transform your garden into a captivating, well-managed garden. Our website is also useful for you if you just want to get the best gardening tips to be used for maintenance of your garden. At our company, you would always get a superior quality, comprehensive gardening service at a reasonable charge for the extraordinary service.
Nick
has been working for our company for 3 years as a Professional Gardener. With 10 years experience in the field he managed to cover more than 3500 addresses.
Vesko
works for our company for 1 year already. As he is specialised in shaping the bushes, lawn mowing and grass cutting, he helps to numerous Customers to maintain their gardens on daily bases.
Gardening Services Kennington from HomeMates
Are you a London based property owner who want an impeccable service for your lawn or garden? Our gardening services agency which is based in Kennington, SE11 area of the UK capital, has been founded to give the right solutions to people like you. We have made a whole gamut of useful gardening and lawn maintenance services available for the London inhabitants. Give us just one chance and we will give you an outstanding gardening service for low price. The gardeners of our agency are extremely hardworking individuals who are also very friendly, loyal, and courteous. They execute the gardening job with utmost dedication.
If you have any enquiry or if you would like to get a quote, just give us a call on 020 3745 4377 or send us e-mail on info@homemates.co.uk!
Gardening Services Prices
We provide more services in Kennington
Your outdoor area can be kept in a great condition by the gardeners and landscapers working in our company. They can offer you the professional care and maintenance of all gardens, located in Kennington, SE11, which will save you a lot of time. Your lawn, trees, bushes, hedges ans flowers will be inspected by our gardeners. If your garden needs revitalizing, shaping or cleaning, our gardeners will provide proper care. You can order sowing of new plants, fertilizing, turf laying, lawn mowing. If you need cleaning of your garden and the paths in it, our gardeners will apply pressure washing on all paved areas and gather all branches, leaves and wastes from your garden.
Professional Gardening Kennington, SE11
Our gardeners specialise in the cutting of grass with professional machines, cleaning of weeds, hedge trimming, pest control and other procedures which can improve significantly the look and condition of your garden. It doesn't matter if your place needs more specific cares, because our experts have enough experience already and know how to approach every new project. They can also make for you a garden according to your personal requirements. There is nothing impossible for our amazing gardeners and they will assist you any way they can, if you contact them in Kennington, SE11. Whether you do it by going there or calling over the phone, it is not important.