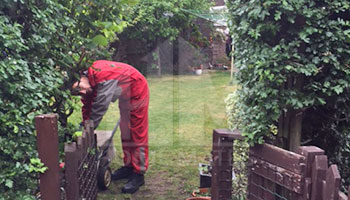 In Kensal Green, NW10, London our company can provide you with the gardening services you need in order to have your garden:
Well maintained – all activities needed for the great fresh look of your garden and performed on regular basis for your best convenience
Clean – we offer special clean up, waste and small trees removal
Beautiful – hedge trimming, lawn mowing, tree pruning – this is not easy like a piece of cake, but it is our job and vocation and we absolutely love it.
Nick
has been working for our company for 3 years as a Professional Gardener. With 10 years experience in the field he managed to cover more than 3500 addresses.
Vesko
works for our company for 1 year already. As he is specialised in shaping the bushes, lawn mowing and grass cutting, he helps to numerous Customers to maintain their gardens on daily bases.
Gardening Services Kensal Green from HomeMates
Our firm which is situated in a commercially active and prosperous area Kensal Green, NW10 within the London city, has been offering interesting lawn maintenance & garden maintenance services to the people who have been dwelling within the UK capital region. We have been providing top-notch gardening and lawn maintenance packages for very affordable service charges and our exceptional services are unparalleled and unsurpassed. We are giving a comprehensive range of services including hedging, cutting, lawn mowing etc. The ride on mowing service has been made available for all types of properties and even slashing is available for larger residential and commercial properties.
The extras we are offering are the great prices and the seven day availability. You can call us for further details.
If you have any enquiry or if you would like to get a quote, just give us a call on 020 3745 4377 or send us e-mail on info@homemates.co.uk!
Gardening Services Prices
We provide more services in Kensal Green
We are proud, respected owners of a grand office which is situated in Kensal Green, NW10 area of the London city. Our London based, magnificent office is the head office of our gardening services company which is a flourishing company in London, UK. We have reputable residential and commercial customers all over the London city. Apart from being a customer, you can also connect with us to grab a job or business opportunity. Even if you are not interested in becoming a customer bust just want to grab a profitable business opportunity, probably our franchise is a great business opportunity for you.
Professional Gardening Kensal Green, NW10
When it comes to gardening services in Kensal Green, NW10, London and you are searching for affordable prices and reliable services you can trust our company.
We have a team of professional gardeners, trained and experienced in different gardens, properly equipped to deal with your garden in a way that will make it wonderful – we will mown the lawn, trim the hedges, prune the trees and even can give you tips how to maintain your garden properly. We work every day of the week, so you can choose when to book our services. Call and you can get additional information and details.