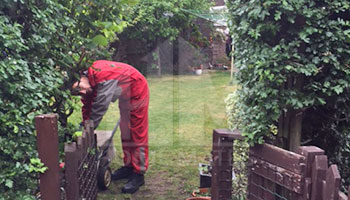 HomeMates provides various gardening services in Marylebone, W1. Our gardeners can offer you lawn mowing, hedge trimming, tree pruning and other gardening services.
We are a leading company in London which provides top quality gardening services. Our high level professionalism guarantees your complete satisfaction. We are flexible enough to act anytime you need. Covering Marylebone, W1, our gardening experts work seven days a week. Our wide range of services is affordable and quick.
Nick
has been working for our company for 3 years as a Professional Gardener. With 10 years experience in the field he managed to cover more than 3500 addresses.
Vesko
works for our company for 1 year already. As he is specialised in shaping the bushes, lawn mowing and grass cutting, he helps to numerous Customers to maintain their gardens on daily bases.
Gardening Services Marylebone from HomeMates
Our company is offering you a way to keep your garden the way it should look without sweating and spending hours and hours in the garden:
Professional Hedge Trimming
Seed Planting
Weeding Services
Garden Clean Up
It is not an easy task to maintain a good-looking garden. Instead of spending hours trying to take a proper care of your outdoor space, hire our professionals to do the dirty work for you.
If you have any enquiry or if you would like to get a quote, just give us a call on 020 3745 4377 or send us e-mail on info@homemates.co.uk!
Gardening Services Prices
Here is a list of all the services we provide in Marylebone
In Marylebone, W1, London our gardening services company is what you will need in order to have the garden of your dreams without sweating days in it and with a lot of preliminary studying and preparations what you should do in order not to kill all the plants in the garden. The results we perform are always brilliant.
Hiring our gardening experts is the quickest and most affordable way to make your garden a green paradise. Book your service now and enjoy the beauty of your outdoor space.
Professional Gardening in Marylebone, W1
Our company, located in Marylebone, W1, is a well-known provider of gardening services. Covering all areas of London, we are available seven days a week. Due to our flexible approach, we are always ready to assist you. Our team is comprised of experienced professionals who know how to take care of your garden. Feel free to contact us anytime you need!
You may think flower growing is easy and pleasant activity, but it has a lot of other additional stuff you need to know and to apply in the care for the garden.
Of course there is also a lot of other information you need to gather and some skills to do things right.
On the other hand you have a choice – to hire our gardening services company in Marylebone, W1, London and to enjoy fine flowers, great hedges and greatly mowed lawn
Call to receive further information and quotations.