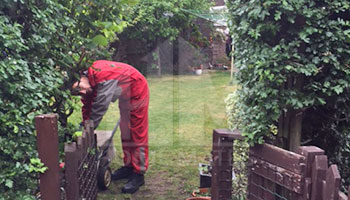 You can maintain your garden in a wonderful condition, if you rely on the gardeners and landscapers working in our company. They will offer you the assistance you need in the proper cares for your plants. We can offer you garden waste removal, cleaning of paved areas in your garden, planting flower beds, hedge and tree shaping, bush trimming. Use our reliable gardening services to create the garden you need. Our gardeners will arrive in the expected time, and using modern gardening tools and machines, will do all the gardening work. We provide our services in Plumstead, SE18 and work seven days a week.
Nick
has been working for our company for 3 years as a Professional Gardener. With 10 years experience in the field he managed to cover more than 3500 addresses.
Vesko
works for our company for 1 year already. As he is specialised in shaping the bushes, lawn mowing and grass cutting, he helps to numerous Customers to maintain their gardens on daily bases.
Gardening Services Plumstead from HomeMates
A well managed, clutter-free, magnificent garden is everyone's dream and we are a gardening services company that can make this dream a reality. You just need to own a garden and we can take full responsibility of its maintenance. We are situated close to you, within the Plumstead, SE18 part of London. Our location is a central London location, so it may be really convenient for you to visit our London office. You can get lots of interesting lawn & garden maintenance services from us. You should expect to get services like hedging, pruning, lawn mowing, cutting, trimming etc, from our masterful gardeners.
If you have any enquiry or if you would like to get a quote, just give us a call on 020 3745 4377 or send us e-mail on info@homemates.co.uk!
We provide more services in Plumstead
Are you tired of spending hours of your weekends in your lawn and still not been able to get anything out of it? Or maybe you could not pay attention to the unwanted weeds growing in your lawn that may look ugly and hamper the good looks of your beautiful home. You probably need us. We are an elite gardening services provider in London and just a phone call away. We provide gardening services for both commercial and domestic needs. Our trained experts are well-trained in dealing with plants and removing waste. We turn barren land to a green, environment friendly garden.
Gardening Services Prices
Professional Gardening Plumstead, SE18
We successfully operate a notable gardening services agency in London, that is magnificently located within the commercially active Plumstead, SE18 area within the city. We provide an extensive range of lawn maintenance and gardening services to those London inhabitants who are our valuable customers. We basically provide most sought after garden maintenance services such as garden maintenance of private homes, town halls, office blocks etc. The basic gardening services that are included in most of the gardening packages of our firm, are hedging, trimming, tree cutting, shrub removal, pond maintenance, garden clearance, rubble and garden refuse removal, once-off clean ups, and so on.