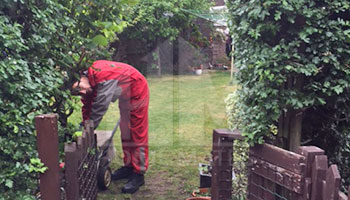 HomeMates provides various gardening services in Southfields, SW18. Our gardeners can offer you lawn mowing, hedge trimming, tree pruning and other gardening services.
If you want to receive excellent treatment and maintenance of your garden, do not hesitate to contact our reliable and professional company that is currently situated in Southfields.
Nick
has been working for our company for 3 years as a Professional Gardener. With 10 years experience in the field he managed to cover more than 3500 addresses.
Vesko
works for our company for 1 year already. As he is specialised in shaping the bushes, lawn mowing and grass cutting, he helps to numerous Customers to maintain their gardens on daily bases.
Gardening Services Southfields from HomeMates
Finding the best care of your garden is not an easy job, however, we can assure you that our company will pay attention to the specific needs of your garden. The basic things, included in our gardening services are:
Mowing and weeding of the garden
Professional fertilising of the soil
Modern designs for all types of gardens
Very reasonable prices
Skilled and responsive employees
Attention to tiniest detail
Exceptional offers
Convenient working hours
We can provide a wide range of procedures that will contribute for the impeccable look of your garden. We co operate with committed and organized team of specialists who can make an arrangement with you during the whole week as well as at the weekends.
If you have any enquiry or if you would like to get a quote, just give us a call on 020 3745 4377 or send us e-mail on info@homemates.co.uk!
Gardening Services Prices
Here is a list of all the services we provide in Southfields
We are qualified and supplied with the necessary equipment to take up with every procedure, required by the customer. We can offer you very innovative and modern designs for your garden and also professional consulting for the most appropriate procedures that need to be provided.
Professional Gardening in Southfields, SW18
Find us in Southfields, SW18 and choose among the great diversity of gardening services that we have prepared for you. We are sure that we will be able to meet your expectations and that you will be pleased with the final results. We will take care of the restoration of your garden, including procedures like mowing, weeding and fertilising of the soil. You can also receive professional advice for the right maintenance of your garden thanks to our collaboration with many gardening specialists. You can be sure of the quality of work, because we have ensured preliminary trainings for all the employees.
We are encouraging you to choose the best gardening services in Southfields, SW18 and to enjoy your free time while our specialists take up with every detail of your garden. You will have the chance to benefit from our affordable prices and special offers for all the customers. We promise to be loyal in every aspect of the work and to inform you about every step of the working process. Taking into account all the information, you can be sure that our gardening services won't disappoint you, so pick up your phone and contact our friendly and comprehensive staff.