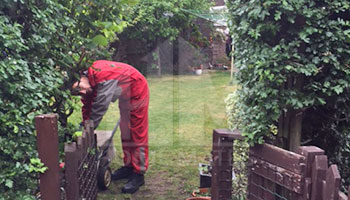 HomeMates provides various gardening services in West Ealing, W13. Our gardeners can offer you lawn mowing, hedge trimming, tree pruning and other gardening services.
Seeding, watering plants, removing weed, turfing, aerating, fertilising, hedge trimming and tree pruning – all these activities don't seem to be either easy or enjoyable. Moreover, they can take all your free time. Call us and book for our gardening services and we will do all of them and even more.
Nick
has been working for our company for 3 years as a Professional Gardener. With 10 years experience in the field he managed to cover more than 3500 addresses.
Vesko
works for our company for 1 year already. As he is specialised in shaping the bushes, lawn mowing and grass cutting, he helps to numerous Customers to maintain their gardens on daily bases.
Gardening Services West Ealing from HomeMates
Our professionals are now available in West Ealing, W13 every day and all of them have enough experience and skills to provide you with excellent gardening services, like:
Lawn Mowing
Lawn Aerating
Hedge Trimming
Garden Tilling
Greenhouse installation
Our gardening services are available in West Ealing, W13 every day of the week and we can be on your doorstep in a short notice. Call an operator now and ask for a free quote. We are at your service every day of the week and we will do the job by using professional tools.
If you have any enquiry or if you would like to get a quote, just give us a call on 020 3745 4377 or send us e-mail on info@homemates.co.uk!
Gardening Services Prices
Here is a list of all the services we provide in West Ealing
Every gardener knows that the garden needs constant attention during all seasons and mostly at the beginning of the spring when the snow melts and makes it look disastrous. We got you covered. We can handle all the tasks necessary.
They won't waste your time and money by pretending they are doing something. They will make your garden look terribly beautiful indeed. Call an operator and ask about all the gardening services we provide.
A lot of things have to be done in your garden, especially when the snow melts at the beginning of the spring and reveals a terrible view. We can help you make it as beautiful as it was last year. We have our team of hard working and experienced gardeners who work in West Ealing, W13 every day of the week.
Professional Gardening in West Ealing, W13
Some of the gardening services they are specialised in are lawn mowing, tree pruning, bush trimming, fencing, removing weeds, dealing with overgrown hedges and many more. Call an operator now for more information and a free quote.
There is so much to be done in the garden and you keep delaying it just because you are too tired? Don't let your garden turn into a jungle. We can make it a paradise and you don't have to lift a finger. You just have to call an operator and make a booking for our gardening services or use the form on our website.
We work in West Ealing, W13 every day of the week and we offer services, appropriate for the different seasons – turf laying, fertilising, weed removal, lawn mowing, bush trimming and many more.