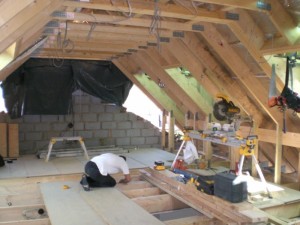 Professional loft conversion services in West Ealing, W13 provided by HomeMates. Increase the living area of your house with our loft conversion service. Call now!
We are a London-based building company that specialises in loft conversion. We employ the most proficient teams of interior designers, architects, and builders and they will all gladly help you turn that nasty space under your roof into a cosy room.
Book with us now – we provide our services in all parts of London, West Ealing, W13 included.
Contact HomeMates at 020 3745 4377 or at info@homemates.co.uk.
Building Services Prices
The prices can vary greatly depending on the size of the property and materials used. We strongly recommend to fill in the form or call us for a free quote.
Loft Conversion in West Ealing from HomeMates
Our loft conversion involves the following stages:
Inspection of your loft – our designers and architects will pay you a visit so as to determine how the conversion should be performed, what could and could not be done as well as many other important details
Design – our skilful employees will carefully plan the design of the new room
The actual building – our builders will turn your loft into a comfortable and pleasant room
Here is a list of all the services we provide in West Ealing
Loft conversion requires certain things to be taken into consideration, just like any other building-related procedure. For instance, proper materials should be used and they need to be solid and steady enough. What is more, the conversion should be performed only by people who are well-aware of the procedure. And we guarantee that our builders in West Ealing are just what your home needs. They will make sure to strictly follow your instructions, so as for the final results to be pleasing enough to you.
You can find HomeMates also in West Kensington, White City and the rest of the London as well.
Loft Conversion Services in West Ealing, W13
You need to be sure that our employees will opt only for first-class materials, paints, tools, etc. , so as to make sure that the loft conversion is carried out properly. They will take care of absolutely everything needed, including the electrics and the plumbing. And you will not be asked to do anything, but to rest assured that you will soon have more living space in your home.
If you are interested in our loft conversion, please, give us a call and we will provide you with all the details you might need. Our customer support centre is available 24/7 and our competent operators are always ready to help. We guarantee that no other company in West Ealing, W13 or anywhere else in London offers such a versatility to its customers. Choose us – choose the best for your premises.