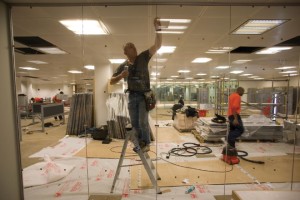 HomeMates is a prestigious company that provides professional office refurbishment for the customers who want to change the style of their office or who want to have their offices entirely renovated and designed. All the stages of planning the office refurbishment are implemented with precision to every detail, according to the specific needs of the office.
Give us a call now on 020 3745 4377 or send us an e-mail at info@homemates.co.uk with your enquiry or to arrange a viewing.
The services that are currently included in the office refurbishment within our company:
flooring
ceiling
interior design
useful consultations
fixing of lighting
organizing of furniture issues
Refurbishment Services Prices
The prices depend ond the size of the property and the requirements you have. Call us now and arrange a free viewing!
The competent experts that co operate with our company will offer a wide range of stylish furniture for the refreshment of the office atmosphere. All of the furniture is certified to the industry standards for style and comfort. The maintenance of the floors and ceilings is also involved in the office refurbishment and it is performed by special technicians that co operate with the company.
Professional Inspection
For the best interior of the office, a team of designers will come and will inspect the condition of the office and then they will decide what is the best option for making a comfortable office environment. All the lights will be carefully fixed and the broken bulbs will be successfully replaced.
The company also organizes useful consultations, where the team of experts will evaluate the space that is needed for all the furniture and items. The project management of the company for the office refurbishment currently includes presenting of the documents that confirm the qualification of the employees as well as some initial layouts, prepared by the designers and other planners that are responsible for the office refurbishment as well as for bathroom refurbishment, kitchen refurbishment and home refurbishment.
The company works within strict time lines, as fast as possible for ensuring a presentable appearance of the offices. The office refurbishing is performed in the whole London area thanks to the flexibility of the comprehensive staff.