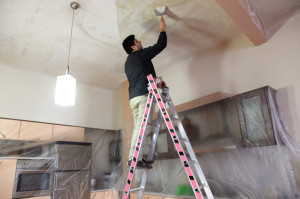 We at HomeMates have a team of employees that perform professional home refurbishment services for property agents, home owners and landlords. They involve a wide range of refurbishment services, simpler or more complicated, depending on the preferences of the customers.
The company's list currently includes:
decorating and painting
fixing of electrical and gas installations
plumbing services
dealing with audio visual and home systems
dealing with wood flooring
providing of detailed consultation service
constant visits for checking the manner of working
expert advice on the home refurbishment
Give us a call now on 020 3745 4377 or send us an e-mail at info@homemates.co.uk with your enquiry or to arrange a viewing.
Refurbishment Services Prices
The prices depend ond the size of the property and the requirements you have. Call us now and arrange a free viewing!
The customer's home will be fully refurbished and after that it will be immaculately prepared for future sale or rental. All of the rooms can be repainted and decorated by the team of workers that can deal with a total change of the layout of your home. As far as all the electrical adaptations are concerned the technicians are ready to fix them thanks to the proper equipment and to their competence. Besides home refurbishment our team of handyman can perform bathroom refurbishment, kitchen refurbishment and office refurbishment as well.
The experts will consult every customer that needs home refurbishment, no matter if it comes for a smaller or for a larger project. There is also a possibility for fixing any plumbing problems, or those that concern the wood floors in your home. During the working process our experts will regularly come and check the progress of work and to help with some useful advice on the layout of the home.
We ensure the contact with the right architects and professionals who will assess the condition of the home and will offer suitable decisions for its refurbishment. The time for finishing of the projects strongly depends on the services that are included but normally it takes no more than 4 months. The company can help with tiny details for fitting and fixtures of the furniture and for their best decorating.