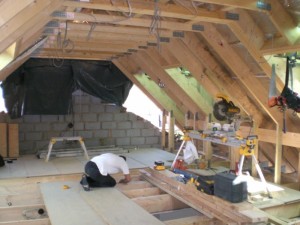 Professional loft conversion services in Blackheath, SE3 provided by HomeMates. Increase the living area of your house with our loft conversion service. Call now!
If you want to extend the living area in your home, you can use our affordable and professional loft conversion services. They will create the additional living space you need in your home.
Our architects, builders, plumbers and electricians will do the necessary installation and building work, transforming your neglected loft. We can offer the loft conversion each customer needs, done in the most preferred date and time.
Contact HomeMates at 020 3745 4377 or at info@homemates.co.uk.
Building Services Prices
The prices can vary greatly depending on the size of the property and materials used. We strongly recommend to fill in the form or call us for a free quote.
Loft Conversion in Blackheath from HomeMates
We can offer you top-notch loft conversion services in Blackheath, which can create for you:
A traditional or modern design for your new rooms
The most suitable type loft conversion implemented: dormer, hip to gable, mansard, velux or a combination of some of these
Installation of your electrical and water supplying systems
Painting, decorating, floor installation and additional services, included for your new room/rooms
More living space in your attic with all the luxuries you want added in it
Here is a list of all the services we provide in Blackheath
Our team of loft conversion specialists use top-quality building materials and have a lot of experience implementing different conversion projects. Our services are provided in Blackheath SE3 seven days per week.
Our loft conversion specialists will inspect your attic space and prepare a plan for your conversion, regarding your preferences and special requirements. If you like the the plan of the project, it will be sent to the local authorities for approval, whenever it is necessary. Our project manager will control the loft conversion and will let the customer supervise every stage of it.
Loft Conversion Services in Blackheath SE3
Whenever you need professional loft conversion you can use our services. They are provided on affordable prices in Blackheath SE3 in a date and time, convenient for each customer. Get in touch with our representatives by calling our contact numbers. We can arrange a meeting with our planning assistants to come and visit your attic and offer you the best option it has for converting.
Your neglected attic space can be transformed by our qualified and professional architects, builders, interior designers and engineers into the living room, bedroom or other type of room you need most in your home. They will offer the best option for every loft, taking into consideration the customer's requirements and some other factors like the height of your attic. Call us and order a free of charge inspection of your attic so that our planning assistants can discuss the options you have. Our company works in Blackheath SE3, where we offer our services.