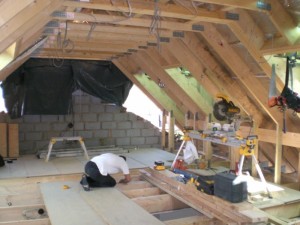 Professional loft conversion services in Camberwell, SE5 provided by HomeMates. Increase the living area of your house with our loft conversion service. Call now!
If you want to increase the value and size of your living area in your home, you can order the professional loft conversion that we provide. It will make your house improved with a guest bedroom, bathroom, office room, nursery or other room that you need.
Use our services, available in Camberwell SE5, to turn your neglected loft area into the rooms you need most in your home.
Contact HomeMates at 020 3745 4377 or at info@homemates.co.uk.
Building Services Prices
The prices can vary greatly depending on the size of the property and materials used. We strongly recommend to fill in the form or call us for a free quote.
Loft Conversion in Camberwell from HomeMates
Our loft conversion services in Camberwell can offer you:
Planning and implementation every project in line with the customer's needs and budget
Creating the design of the new room
Illustrating the conversion in advance with drawings or computer graphics
Hip to gable, dormer, Velux and mansard loft conversion types, available
Painting and decorating the new rooms
Floor installation
Converting your loft into an additional bedroom, guest room, bathroom, home office, or other type of room
We can offer you seven days a week available loft conversion services, which will be done in accordance to your needs and requirements. Our builders, engineers, plumbers, electricians, and decorators have implemented a number of different projects, and have the skills and experience to cope with every loft conversion.
Here is a list of all the services we provide in Camberwell
You can have you neglected loft area converted into a more necessary room of your choice, which you can use for work, relaxation, or guest bedroom. Our builders, engineers, painting and decorating specialists, plumbers, and electricians will create all the facilities you need in your new room, doing the necessary installations, fitting of appliances and furniture.
Loft Conversion Services in Camberwell SE5
We can plan your project in advance and illustrate it with drawings or computer graphics. Every loft conversion is implemented after the customer approves it and is happy with the way his new room looks. Use our affordable and professional services, provided every workday and weekend in Camberwell SE5.
If you want to have more rooms in your house, without having to extend it, our second to none loft conversion can ensure you this. From planning, implementing, doing the necessary installations and fitting work, our team of professionals will provide you the additional living, working and recreation area you need in your home.