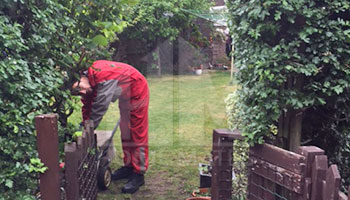 We have a gardening services firm in Camberwell, SE5 which is a commercial zone of the London city, and we have customers in all parts of the London city, and all our customers are delighted with the gardening job that our expert gardeners have carried out in their gardens. We are able to provide you specialists who are professionally trained individuals and able to provide you a full range of gardening services that includes general lawn maintenance, general garden maintenance, shrub removal, all types of hedge work, leaf collection, garden clearance etc. We will totally satisfy you since we will properly maintain your entire garden.
Nick
has been working for our company for 3 years as a Professional Gardener. With 10 years experience in the field he managed to cover more than 3500 addresses.
Vesko
works for our company for 1 year already. As he is specialised in shaping the bushes, lawn mowing and grass cutting, he helps to numerous Customers to maintain their gardens on daily bases.
Gardening Services Camberwell from HomeMates
We are into gardening services business and we supply trained, experienced, professional gardeners to the London based property owners. Being a London citizen, you can enjoy our much sought after gardening services – we provide a wide variety of gardening services all over the London city. We cover London locations Camberwell, SE5. Most of our gardeners are locals, so you will avail an impressive gardening service from a local worker who might be aware about the right procedures to take care of the plants that are typically grown in the soil of your area – your plants will get nice treatment.
If you have any enquiry or if you would like to get a quote, just give us a call on 020 3745 4377 or send us e-mail on info@homemates.co.uk!
Gardening Services Prices
We provide more services in Camberwell
As a gardening services company in Camberwell, SE5, London, we are providing to our business and individual customers a wide range of gardening services. We are here for you when you need usual gardening maintenance on regular basis. We can be useful when it comes to extended special services according to your desires and the needs of your garden.
Our activities are always synchronised with the weather conditions so we can both satisfy your needs and the professional care of the garden.
With our professional touch, proper tools and adequate care your garden will look like a masterpiece and you will be happy having it.
Professional Gardening Camberwell, SE5
We are a leading gardening services provider in London. We provide a variety of service including cutting of grass, plantation, recycling, plant trimming, pest control and much more. Gardening may be a tedious job but we make it very easy for you. We help you with cutting off unwanted grass from your lawn and make your garden look neat and tidy. We save you hours of your precious time that you can spend in doing the things that you love. Call us now, ask for the best package available and our professional gardeners can analyze and help you making your lawn look beautiful.