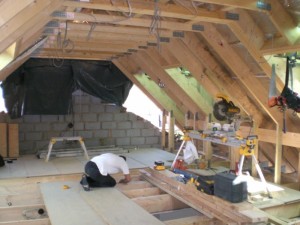 Professional loft conversion services in Earlsfield, SW18 provided by HomeMates. Increase the living area of your house with our loft conversion service. Call now!
If you want to increase the living area in your house without having additional extensions in it, you can use our exceptional loft conversion services. They will create the extra bedroom, bathroom, office room, guest room or other type of room that you need. We can offer you planning and implementation of your project according to your requirements and needs: from creating drawings, receiving permission form the local authorities, if necessary, to doing the final painting and decorating work.
Order your loft conversion and leave the rest to our qualified and professional builders. Our services are available for all Earlsfield, SW18 residents seven days a week.
Contact HomeMates at 020 3745 4377 or at info@homemates.co.uk.
Building Services Prices
The prices can vary greatly depending on the size of the property and materials used. We strongly recommend to fill in the form or call us for a free quote.
Loft Conversion in Earlsfield from HomeMates
If you rely on our team of builders and interior designers to plan and implement your loft conversion, you can expect:
Planning and making decisions about every aspect of your conversion
Close collaboration between the customer, planning assistants, builders and decorators to meet the specifications of each customer
Creating drawings for each conversion in advance
Implementing the conversion using top-quality building materials
Final painting and decorating work
Creating an office, guest room, playroom, bathroom, bedroom, or other kind of room
Seven days a week available services, provided at reasonable price
Here is a list of all the services we provide in Earlsfield
If you rely on our professional and experienced engineers, builders, painting and decorating specialists, to create the additional rooms you need in your loft, you will have more rooms you can use for working, relaxation, and guests. We can convert your neglected loft into the rooms you need most in your house, using high-quality building materials. The plumbing and electrical installations, painting and decorating work, will be done by our specialists in these areas. Use our exceptional loft conversion services to make your home more valuable, comfortable and serve the needs of your family for additional rooms. They are provided in Earlsfield, SW18 at a time that is convenient to each customer.
Loft Conversion Services in Earlsfield, SW18
You can have dormer or Velux windows installed in your loft, depending many factors. Our loft conversion specialists will offer you the most appropriate type of loft conversion, suitable for the loft space you have available. You can receive a free estimate to understand the approximate price of your conversion. We can transform your neglected loft into the additional rooms you need most, done by our builders, decorators, plumbers and electricians. Order the loft conversion you need, provided in Earlsfield, SW18, any time in the week.