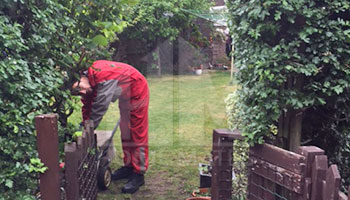 HomeMates provides various gardening services in Earlsfield, SW18. Our gardeners can offer you lawn mowing, hedge trimming, tree pruning and other gardening services.
If your garden is in poor condition or if you simply search for a better maintenance, our company in Earlsfield, SW18 is the most appropriate choice for you. We are experienced and dedicated to our job and we collaborate with recognized specialists that will give you valuable advice for your garden.
Nick
has been working for our company for 3 years as a Professional Gardener. With 10 years experience in the field he managed to cover more than 3500 addresses.
Vesko
works for our company for 1 year already. As he is specialised in shaping the bushes, lawn mowing and grass cutting, he helps to numerous Customers to maintain their gardens on daily bases.
Gardening Services Earlsfield from HomeMates
If you want to receive effective and professional gardening services, trust our dedicated and responsible gardening specialists that are supplied with modern and appropriate equipment of tools and machines.
You can expect from us the following things:
Mowing and trimming
Weeding of the garden
Extensive care for more specific surfaces
Eco friendly substances
Professional fertilising of the soil
Modern machines and instruments
Skilled and organized gardening specialists
Affordable pricing without hidden fees
Very convenient working schedules
Call centre 7 days per week
Our company works with customers during the week as well as at the weekends and we are ready to listen to your requirements, concerning the look of your garden. We can offer a wide range of useful procedures that will totally change the appearance of your garden.
If you have any enquiry or if you would like to get a quote, just give us a call on 020 3745 4377 or send us e-mail on info@homemates.co.uk!
Gardening Services Prices
Here is a list of all the services we provide in Earlsfield
We will organize the whole maintenance of your garden, including procedures that will restore its nice look. Our specialists in Earlsfield, SW18 are able to provide mowing and trimming as well as weeding of your garden. Thanks to our eco friendly substances we are also capable of offering professional fertilising of the soil. All of our employees have been preliminary instructed how to provide each procedure in a flawless way. If you want any additional procedures, we will be happy to offer our assistance, no matter of the day.
Professional Gardening in Earlsfield, SW18
We are welcoming you in our company which has long specialized in offering reliable and on-time gardening services for its revered customers. Located in Earlsfield, SW18 we can provide convenient working schedules for all the clients that have busy working schedules. All of our gardening services are reasonably priced and provided with attention to detail.
We are greatly motivated to demonstrate you our innovative methods of working that will contribute for the excellent maintenance of your garden. Trust our friendly and hard working employees that will treat your garden in a careful and thoroughly professional manner. For more details, you can use our customer support centre from Monday to Sunday.