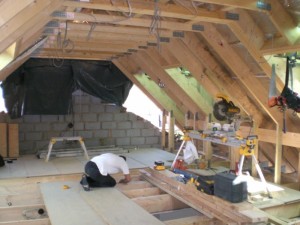 Professional loft conversion services in Hendon, NW4 provided by HomeMates. Increase the living area of your house with our loft conversion service. Call now!
Does your home feel so crowded you don't have room to breathe? It must feel terrible. But no stress. Our company, which is based in Hendon NW4, can help you extend your space in a cost-effective way. We offer loft conversion services and we have the best products and materials.
Loft conversion is the only possible way of creating more space without extending your house. It's also quite affordable. If your family can no longer stand living in a small place, this is the best solution for you. We guarantee you will be delighted with the outcome, especially if you use our service.
Contact HomeMates at 020 3745 4377 or at info@homemates.co.uk.
Building Services Prices
The prices can vary greatly depending on the size of the property and materials used. We strongly recommend to fill in the form or call us for a free quote.
Loft Conversion in Hendon from HomeMates
Check this out:
All types of properties loft conversion
All types of loft conversion available
24/7 customer support
Fascinating results
Here is a list of all the services we provide in Hendon
If you are interested in loft conversion and your know your home will look and feel much better, then there is no point in postponing; do it now. Our professional staff will ensure high-quality results, no matter where in Hendon NW4 you are.
Our Hendon NW4 based company offers the following types of loft conversion: dormer, hip to gable, mansard, Velux. The type of loft conversion generally depends on the size of the loft and its shape; whether it has sufficient headroom and internal space or not.
We will take all the measurements necessary and provide an expert inspection of the place to determine which type of loft conversion will be best for your home. To us it doesn't matter whether your loft is big or small because we can work miracles with any loft. Our service is useful for each one of you who want more space at home.
Loft Conversion Services in Hendon NW4
Do you find it difficult to organise a loft conversion project for your home? Leave everything in our hands. You don't have to spend your free time doing this. In fact it's much better to leave the job to our skilled professionals who are knowledgeable and experienced enough.
Our builders in Hendon work with enthusiasm. They are very organised and friendly. They try to keep the site as tidy as possible and to cause minimum noise while they keep the project going. Not only your neighbours will be happy, but you will too. Our fellows will be very diligent, hard-working and well-mannered. They will let you know about any changes and keep you informed about every step. How about you contact us?