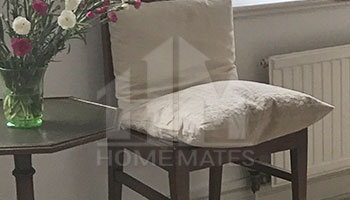 What does it take to always have an impeccably clean and healthy home? You are not sure just how to achieve that? Our house cleaners are here exactly for that reason. They are trained to do professionally all types of domestic work and leave any place stunning. The technology and methods we employ are really safe for your family's health but they are also incredibly effective and provide ideal cleanness. We are the best solution for any household in Hendon, NW4 but we can also be hired in the neighbouring areas of London. So pick up the phone and call us.
Nedka
is in her early 50's and she is one of our finest cleaners. The saying 'Age ain't nothing but a number' defines her.
Daisy
is challenging herself in order to become an expert. She is practicing her skills on daily bases and do not accept anything but sparkling home.
Galina
is one of our brightest cleaners. Fond of household pets and children. Galina works quickly and up to a high standard.
Yulia
is a brilliant cleaner, who works quickly and catches on to each and every one of our customers' needs.
Home Cleaning in Hendon from HomeMates
Our house cleaners love the jobs you hate, if you find a particular cleaning task extremely boring our team members will execute it with attention and devotion. Because our primary aim is to satisfy our clients. You can rely on us with the ironing, cleaning the windows, the stoves and ovens, the fridge, and of course, not only the kitchen but every other room in your house. We are very flexible and we provide the cleaning at the time which is the most appropriate for your schedule. If you want- you can find us in Hendon, NW4, London or on the phone provided for you facilitation.
E-mail us at info@homemates.co.uk or call us on 020 3745 4377 and our customer care team will gladly explain you even the smallest details about our cleaning services.
Domestic Cleaners in Hendon
You do love your home, right? So, don't do a mistake by hiring a small and trustless company to do the cleaning in your home. Take care of it the right way. What is the right way you ask? We are the right way. Our company is the biggest cleaning company in Greater London with years of experience and thousands of satisfied clients behind our back. We offer different types of cleaning such as one off and a regular one on reasonable prices. So you can choose the best one according to your needs. Call us for more details, regardless of your location. We cover every part of Greater London, including Hendon, NW4.
HomeMates Cleaners Hendon, NW4
Time is money! This is why we will not waste your time and we will not take your money – our house cleaners will willingly come at your place and start cleaning. Your property will look as good as new in a matter of hours, no matter of its size. We can be booked in Hendon, NW4, London and we have always been taking our job really seriously. As a matter of fact we can guarantee that our services are of really high quality and our rates are really moderate – get in touch with us for additional information right away.