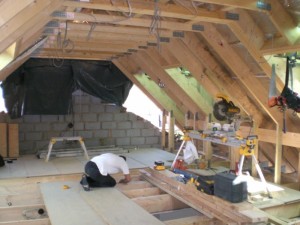 Professional loft conversion services in Penge, SE20 provided by HomeMates. Increase the living area of your house with our loft conversion service. Call now!
We offer high standards of service and professional attitude. Our company is very reputable and our business is blooming. We have many customers. In fact for the past few years we have helped hundreds of Londoners expand their lofts and ensure more space within their homes.
To make this happen, we use a bunch of tools, products and materials as well as our knowledge and competences. Our experience is essential too. Throughout the years we have learned a lot and we use it to make our service better.
Contact HomeMates at 020 3745 4377 or at info@homemates.co.uk.
Building Services Prices
The prices can vary greatly depending on the size of the property and materials used. We strongly recommend to fill in the form or call us for a free quote.
Loft Conversion in Penge from HomeMates
You can be sure that our loft conversion services are very worthwhile. We offer the best possible quality and are at your service every day. Our business is situated in Penge SE20 and we can come to your place as soon as possible.
Reasons to choose us:
Very responsible and reliable
Reasonably-priced
Meticulous and pedantic
Professionally-screened
Here is a list of all the services we provide in Penge
Our personnel is experienced and competent, ready to serve any resident of Penge SE20. We make sure our builders receive extra training so that they are always prepared to face the various challenges that loft conversion may offer. Apart from this, we carefully scrutinise their performance to prevent any problems. We are strictly professional and perfectionists. This means that every step of our loft conversion service will be carried out with attention to detail.
Loft Conversion Services in Penge SE20
We won't forget to ask you what you think. Your opinion matters to us. After all we are here to improve your property, that's why we will make sure our service suits your individual needs. We can keep you posted during every step of our service if you want. If you don't, we will only inform you about the most important parts. All the equipment will be brought by us. When we are done with the task, we will clean up the area, gather our stuff and head for home.
If you are interested in booking a service, you can do it right away, thanks to our call centres. We are available 7 days a week and for your convenience our operators work 24 hours a day. You can give us a call any time. Get a free estimate by phone. You will not regret it.