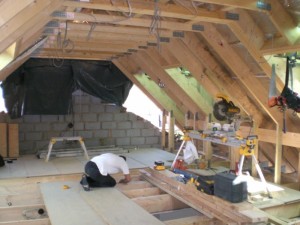 Professional loft conversion services in Southgate, N14 provided by HomeMates. Increase the living area of your house with our loft conversion service. Call now!
We will provide you with the best materials, builders and other specialists who will take care of your loft conversion project better than anyone else. In case you are thinking about expanding and improving your real estate property, we can give you some tips and also assist you with this project.
We only require from you a phone call and also to share with us what you expect us to achieve with our work. For the rest, we will send you our professional builders and architects who will take measures of the place and will prepare everything for the following conversion.
You can give us the necessary information by contacting us in our headquarters in Southgate N14 over the phone or by coming there yourself.
Contact HomeMates at 020 3745 4377 or at info@homemates.co.uk.
Building Services Prices
The prices can vary greatly depending on the size of the property and materials used. We strongly recommend to fill in the form or call us for a free quote.
Loft Conversion in Southgate from HomeMates
Our agency wants to offer you:
24/7 professional services which you can book for your home;
Excellent loft conversion which will change your life;
Reasonable prices for the conversion of your attic and for any other procedure you want;
Modern equipment and methods of work;
An easy and affordable way to expand your real estate property
Here is a list of all the services we provide in Southgate
With our professional help it will be possible to make the changes in your home that you've always wanted. We will provide you with excellent specialists who will plan and execute a loft conversion in Southgate within a couple of days. Even though this is a procedure which takes more time, our experts are experienced enough to finish it faster. If you choose to rely on the skills of our experts, you will get very professional loft conversion which will also cost you a perfectly fair price.
Loft Conversion Services in Southgate N14
We believe that we can satisfy our clients by giving them the renovation that they want. Our professional loft conversion service has been created for those of our clients who need more space to feel comfortable. With our procedures they will receive all the space they need and they can use it the way they like. The people from Southgate N14 know how effective the loft conversion services of our agency can be and you can read about their experiences and impressions in our office.
Except from the testimonials of our customers, you can also get information by asking us directly. We will take the time to enlighten you about the techniques that we use in our work and also about the products and machines which are part of our advanced equipment.