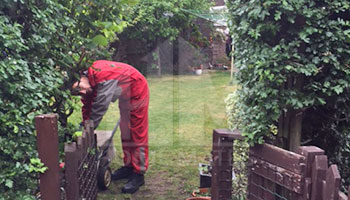 HomeMates provides various gardening services in Southgate N14. Our gardeners can offer you lawn mowing, hedge trimming, tree pruning and other gardening services.
If Southgate N14 is where you live and you are looking for reliable gardeners, your search is done. We have the experts to take care of your garden. Get to know us better by checking this out.
Nick
has been working for our company for 3 years as a Professional Gardener. With 10 years experience in the field he managed to cover more than 3500 addresses.
Vesko
works for our company for 1 year already. As he is specialised in shaping the bushes, lawn mowing and grass cutting, he helps to numerous Customers to maintain their gardens on daily bases.
Gardening Services Southgate from HomeMates
Reasons to use our company:
Skilled, hard-working, reliable
Environmentally-conscious and committed to the environment
Creative and devoted to the job
Professionally-screened
Available all year long, 7 days a week
We are positioned in London and have a gardening business. For the past few years we have offered this city professional, expert and affordable gardening services for every taste. We deal with a number of tasks in the garden, including lawn mowing and planting. You can contact us very easily by calling or emailing us regardless of the day and time.
If you have any enquiry or if you would like to get a quote, just give us a call on 020 3745 4377 or send us e-mail on info@homemates.co.uk!
Gardening Services Prices
Here is a list of all the services we provide in Southgate
Whether you need tree pruning, fertilising, hedge trimming, planting or lawn mowing, you can get it all at our company, which services Southgate N14. We will gladly help you maintain your garden.
We are committed to keeping customers satisfied at all times. Our goal is to carry out an individual garden maintenance program that suits your budget and requirements completely. We are convinced we can make a wonderful garden and lawn out of your outdoor space. All you need to do is trust us and let us get the job done. We promise that you won't regret it.
Professional Gardening in Southgate N14
Without costing you extra, we will keep your garden clean, tidy and healthy. We will pay you visits as often as necessary, either seasonal or all year long to mow your lawn, remove old leaves and dead branches, plant seeds and fertilise, clean up messes, prune the trees and get everything in order. We like to get busy. We will stop at nothing to make your garden your favourite place to spend your evenings or get some rest. You will be impressed, we promise.
Southgate N14 is the place where our office is headquartered and also our main servicing area. If you need more information about all the districts we cover, don't hesitate to call our co-workers who will answer any questions and give the details you need. You can hire a team of gardeners straight away by dialling this number. If interested, just keep in mind that our phone lines are open 24 hours every day. Get a free estimate.