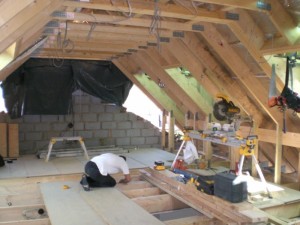 Professional loft conversion services in Stockwell, SW9 provided by HomeMates. Increase the living area of your house with our loft conversion service. Call now!
If you need professional help for the renovation of your additional space, do not hesitate to contact our company that offers second to none loft conversion in Stockwell, SW9. We are very ambitious to prove to you that we apply unique methods of working, done by our dedicated team of handymen. Our loft conversion is high quality and provided during the week as well as at the weekends.
Your additional space will be transformed into a suitable place of living in a fast and excellent way. We guarantee that every procedure will be implemented due to all the standards thanks to the modern equipment that we use. We are expecting your phone calls 7 days per week and we will be happy to discuss all the details of the working process with you.
Contact HomeMates at 020 3745 4377 or at info@homemates.co.uk.
Building Services Prices
The prices can vary greatly depending on the size of the property and materials used. We strongly recommend to fill in the form or call us for a free quote.
Loft Conversion in Stockwell from HomeMates
If you dream of impeccable loft conversion, our handymen will be ready to come up with the greatest offers that currently include the following things:
Careful planning of every procedure
Diversity of designs for your loft conversion
Motivated and cheerful team of handymen
Availability 7 days per week
Modern and effective machines and tools
Amazing offers and fairly honest prices
Customer support centre for any additional questions
Here is a list of all the services we provide in Stockwell
We assure you that our loft conversion is the best in Stockwell, SW9. No matter of the time of the day, we will demonstrate you willingness to come and to take up with the loft conversion. Our handymen will organize every detail, without missing to inform you of every step of the working process. Thanks to the excellent equipment that we use, we are able to provide the loft conversion in an outstanding and thoroughly safe way. If you wonder about the design of your additional space, we will come up with fresh and innovative ideas for its look. Our specialists are always at your disposal to offer you consultations about your loft conversion.
Loft Conversion Services in Stockwell, SW9
Find us in Stockwell, SW9 and meet with our devoted and polite handymen. We would love to establish long lasting collaboration with you and to perform the ideal loft conversion. Thanks to our experience we can apply great and effective methods of working that will contribute for the flawless look of your room. Learn more about our very reasonable prices and exceptional offers through the customer support centre that also work 7 days per week. Choose the quality and dedication, combined with friendly attitude and punctuality in every detail – we are expecting you in our reliable company.