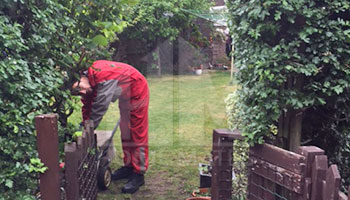 HomeMates provides various gardening services in Stockwell, SW9. Our gardeners can offer you lawn mowing, hedge trimming, tree pruning and other gardening services.
Our company is one of the main providers of excellent gardening services. We are based in Stockwell, SW9, where our work can be seen all over the area. We have been operating there for many years and have managed to please a huge number of customers, some of whom keep on using our professional assistance.
Nick
has been working for our company for 3 years as a Professional Gardener. With 10 years experience in the field he managed to cover more than 3500 addresses.
Vesko
works for our company for 1 year already. As he is specialised in shaping the bushes, lawn mowing and grass cutting, he helps to numerous Customers to maintain their gardens on daily bases.
Gardening Services Stockwell from HomeMates
We offer a number of gardening options, amongst which you can find:
Mowing
Trimming
Mulching
Pruning and hedging
Landscaping
Pest control
General maintenance
Every garden needs to be provided with care but unfortunately this often takes more time and energy than many people can afford. The good news is that there is an easier and much better option that gives everyone the opportunity to enjoy a lovely garden without spending even a minute working on it – using our professional gardening services.
If you have any enquiry or if you would like to get a quote, just give us a call on 020 3745 4377 or send us e-mail on info@homemates.co.uk!
Gardening Services Prices
Here is a list of all the services we provide in Stockwell
In our company we understand what a challenge in could be to try and maintain a nice garden, especially if you have no time on your hands. That's why we have developed superb gardening services in Stockwell, SW9 that allow every client to enjoy a great garden without worrying about maintaining it.
Our gardening services can be used by both commercial and private clients and are suitable for any kind of garden, regardless of its size. Whether you need to have your garden taken professional care of on a regular basis or you simply need to have your trees and shrubs trimmed, it is our company that can do it best.
Professional Gardening in Stockwell, SW9
We work with great teams of experienced gardeners, all of whom are skilled, well-trained, able, qualified and attentive. They have all of the needed skills to provide every customer with a service that is better than they can imagine. We have always made sure everything we do shows results that exceed the expectations of our clients. That's how we have become the respected and reliable company we are.
We always try and keep up with the latest standards by improving our services constantly and working hard to offer the best gardening services in Stockwell, SW9. We also offer affordable prices that can fit any budget with ease. Our prices are among the lowest ones in the whole city and at the same time our high quality and excellence are guaranteed. Please contact us for further information or call us to make an appointment at a convenient for you time. We work every day of the week, as well as on holidays.