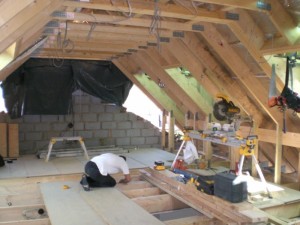 Professional loft conversion services in Sydenham, SE26 provided by HomeMates. Increase the living area of your house with our loft conversion service. Call now!
Have you made up your mind to get more space? Do you need office space or a playroom for the kids? The solution is very simple: hire our company, which is based in Sydenham SE26. With so much experience there is in the company, we are convinced your loft will be very good-looking, cosy, spacious and functional.
Our working hours allow for people to book a service 24/7 and to start a project during weekends or bank holidays. We are available every day and you can arrange a discussion right away.
Contact HomeMates at 020 3745 4377 or at info@homemates.co.uk.
Building Services Prices
The prices can vary greatly depending on the size of the property and materials used. We strongly recommend to fill in the form or call us for a free quote.
Loft Conversion in Sydenham from HomeMates
Price is the second aspect of loft conversion after quality of performance that customers are interested in. Knowing how important it is to provide services that most people can afford has made us offer competitive rates in Sydenham SE26. We believe our service will correspond to your budget.
Throughout the time we work together on your loft conversion project, we will:
Offer everything from planning and design to completion of loft conversion
Make sure our service meets all safety, health and building regulations
Deal with every step, including obtaining permission whenever needed
Use the latest materials and techniques
Here is a list of all the services we provide in Sydenham
It is in Sydenham SE26 where we deliver our loft conversions. Throughout all these years we have been a leading provider of loft conversion services. We offer quality, effectiveness and reasonable prices. We have engaged a great number of architects, planners and builders in making our service one of the best in the city. We pick every member of our teams carefully, considering factors like skills, knowledge, competences and discipline. There is no reason to worry about anything if you are using our company.
Loft Conversion Services in Sydenham SE26
Just let us know which day will suit you for our teams to visit your home in Sydenham, consult your on your options and discuss the details regarding your loft conversion. We will make sure our visitation occurs at a time convenient for you, whether on a Tuesday or a Sunday. We are aware your schedule is busy and we will try our hardest to work fast without disrupting your life too much.
How can you contact us? For a prompt response, be sure to use our telephone lines which are open from Monday to Sunday, 24 hours. Our consultants will let you know when you can have a discussion with our specialists concerning your loft conversion. We hope you give us a ring soon.