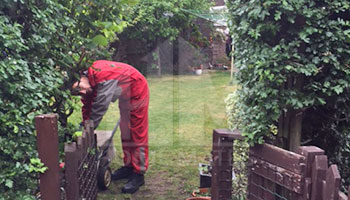 We take pride in offering the most affordable gardening services in London. Our procedures are different than any others that you might have used before because they not only have more attractive prices, but they are also executed with newer and more efficient equipment. We believe that the eco product and machines are better not only for the development of any garden but also for the health of our clients. Your safety is very important for our employees, and so is the improving and maintaining of your garden. Remember that you can always rely on our professional and friendly gardeners, who will be available during any time of the day to come and take care of your garden. You can reach them 24/7 in Sydenham, SE26.
Nick
has been working for our company for 3 years as a Professional Gardener. With 10 years experience in the field he managed to cover more than 3500 addresses.
Vesko
works for our company for 1 year already. As he is specialised in shaping the bushes, lawn mowing and grass cutting, he helps to numerous Customers to maintain their gardens on daily bases.
Gardening Services Sydenham from HomeMates
Have you been neglecting your lawn or garden for a long time just because you never knew how to properly manage your lawn or garden area? If you are not into gardening, that is never a problem. You have full right to own a garden even if you lack knowledge about gardening since professionals are available to tackle all gardening related issues and carry out the regular lawn and garden maintenance chores. We have an agency located in Sydenham, SE26, London; our agency deals in gardening and lawn maintenance services and the expert gardeners of our agency can give you the desired gardening services.
If you have any enquiry or if you would like to get a quote, just give us a call on 020 3745 4377 or send us e-mail on info@homemates.co.uk!
Gardening Services Prices
We provide more services in Sydenham
Are you on a lookout for a quick and affordable, gardening service in London? Just come in connection with our Sydenham, SE26 based gardening services firm and we will supply you first-rate lawn maintenance and gardening services for a price that is quite affordable for you. We will deliver you a lawn or garden that could be enjoyed and treasured by your entire family, and you would also love to invite your neighbours, friends, and colleagues to spend leisure time in your beautiful, well-maintained, captivating garden. We will truly transform your ordinary looking garden into your dream garden.
Professional Gardening Sydenham, SE26
As a gardening services company in Sydenham, SE26, London, we are providing to our business and individual customers a wide range of gardening services. We are here for you when you need usual gardening maintenance on regular basis. We can be useful when it comes to extended special services according to your desires and the needs of your garden.
Our activities are always synchronised with the weather conditions so we can both satisfy your needs and the professional care of the garden.
With our professional touch, proper tools and adequate care your garden will look like a masterpiece and you will be happy having it.