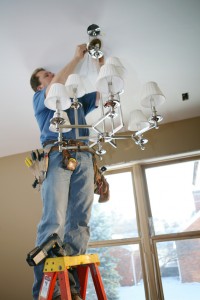 The reasons for taking a decision to get your lighting repaired are various and not all of them are due to a breakdown. Whatever your case is, you'd better not waste time and energy in trying to solve the problem on your own. The most sensible thing you can do is asking HomeMates for professional assistance and avoid the unnecessary hassle. The lighting repair is a complicated task because of all the components and tasks it includes:
identifying the problem by using relevant tools
replacing or repairing the broken parts
rewiring if necessary
upgrading LED lighting system installations
tailoring the current lighting with the aim of enhancing the appearance of the commercial or residential property
Call us on 020 3745 4377 or send us an e-mail at info@homemates.co.uk to get a free quotation.
Electrical Services Prices
In case your lighting items are older or out of date, the damaged parts can hardly be found so the best option is having them repaired by an experienced electricians.
Fixing cut outs
Fixing cut outs in ceilings, light fittings and making them comply with the new regulations are just a few of the tasks the professionals are capable of completing. Some other include: wall sconces, fluorescent light, floor and table lamps, ceiling lights, chandeliers.
While the renovating process is taking place, consider rewiring your house. At one point everyone faces up this unpleasant task, especially if the entire electric installation hasn't been changed since the house was built. In such a case you may need some additional services like electric installations, fault finding and safety testing.
Wide range of options
As far as the LED lighting is concerned, there are several factors that should be taken into account: the lighting system itself – strip lights, dimmer switches, pendant lights – the variety is great.
The lighting that is appropriate for domestic premises is different from the one, decent for commercial properties and the street lighting so in order to be promptly and efficiently fixed, the presence of skilful technician is necessary.