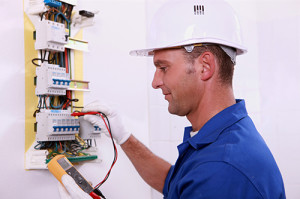 Electrical safety testing is an important process, carried out to ensure that different products, which use electricity, are operating safely. It is a responsible task, which several agencies and even governments have set strict requirements for. In order to make sure that electrical appliances, and entire properties in fact, are safe, they have to go through a few safety tests, a procedure that has to be done by experts from HomeMates.
Call us on 020 3745 4377 or send us an e-mail at info@homemates.co.uk to get a free quotation.
We provide different types of safety tests:
High voltage test
Earth bond test
Insulation resistance test
Leakage test
Electrical Services Prices
Our company offers safety testing services to residential and commercial clients, in order to provide their homes and businesses with the required and needed safety. Electrical safety testing requires special equipment, good knowledge and proper skills. Therefore it has to be carried out by experts in the field of electricity, who will carefully test you appliances and check for any electrical faults that might cause issues.
What our electrical safety testing services include is:
Testing of differential switches for proper operating
Testing of the insulation resistance of cables that are inside walls
Testing of earthing system, which is every property's main safety system
Checking for potential dangers and faults that can damage appliances and in some cases – to start fires
Testing of leakage
Our electricians are supplied with all the necessary equipment and tools to carry out their work effectively. They will inspect carefully your electrical system and see if it's safe for you and your property. They will also detect any undiscovered issue that is a potential danger and will find the best way to solve the problem. Additionally, they can perform maintenance of the electric installations, lighting repair and fault finding. You will be fully aware of the situation and will receive complete information about the problem, in any, and what has to be done.