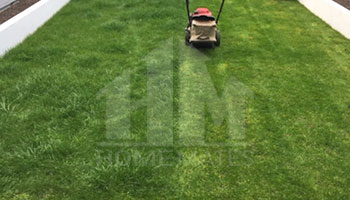 Give us a call and get an advantage of our top quality professional lawn mowing services in Paddington, W2 today! HomeMates can handle any task related to your garden.
Lawn mowing is not as simple as pushing a mower over the grass, you need to have the knowledge also on which height to set your blades so you don't cut the grass too short or even just shred it. Cutting your grass too short will only ensure you create bald patches, or pull the grass out of its root system. When London residents contact us to maintain their lawns, we first have to inspect the lawn to see what we are dealing with, and how big the lawn is. The reason for this is so our lawn mowing experts know which type of machines to bring to ensure a lawn is properly maintained.
Nick
has been working for our company for 3 years as a Professional Gardener. With 10 years experience in the field he managed to cover more than 3500 addresses.
Vesko
works for our company for 1 year already. As he is specialised in shaping the bushes, lawn mowing and grass cutting, he helps to numerous Customers to maintain their gardens on daily bases.
Professional Lawn Mowing in Paddington from HomeMates
What is there to say about lawn mowing, well it's time consuming, quite boring, usually gets done every Sunday before the roast dinner is served, and London homeowners hate it. Which is why you should pick up the phone and call us. We have been in the lawn mowing business for years now, and understand why most homeowners are reluctant to do it, especially on hot summer days when you could be spending the time enjoying yourself with your family or friends. Our lawn mowing business has built it reputation up by offering quality services at affordable prices. No job is too big or too small for us to take on.
If you have any enquiry or if you would like to get a quote, just give us a call on 020 3745 4377 or send us e-mail on info@homemates.co.uk!
Here is a list of all the services we provide in Paddington
Gardening Services Prices
Lawn Mowing Paddington, W2
Are you a London homeowner that has just had their garden landscaped? Do you need a quality lawn mowing service to maintain your garden? Then we are the lawn mowing service you are looking for. Before we take on a job, we first come to inspect the garden in question. By doing this it gives our team a better idea of what they will be dealing with, and also what machines will be required. No matter the size of your garden, we have the machines that can swiftly deal with it. We are constantly upgrading our lawn mowers to keep up with all the latest technological advancements, thus ensuring our reputation is maintained.
London residents love a beautiful garden, but seldom have the time or inclination to ensure this. Due to the fast pace of London life, caring for a garden comes secondary. Which is one of the reasons we started our lawn mowing business. Lawn mowing is not just about pushing around a mower, you need the knowledge on how much you have to cut a lawn, if cut too short this can mean a lawn begins to die, or starts to show brown spots. We only have the best machines to ensure that this never happens. All our experts have agricultural knowledge to know why a lawn is not growing properly, and will help homeowners on the proper maintenance on keeping a green and lush lawn.